We know that we're speaking for pretty much everyone when we say that there are times in life when you feel guilty for laughing at something. We're talking about those moments in life when you know something is actually kind of tragic, but what's happening is actually hilarious. We're pretty sure you know exactly what we're referring to, but even if you don't, you will very shortly. Read on to get some guilty laughs!
This Guy Might Be Up There for a While
Pop quiz - what do you think is going to happen first? A, the guy on the roof shoveling ends up passing out from the sheer torture of it all. B, he gets about 10 percent done and then throws the shovel in disgust and says, "the heck with this." C, he ends up starving to death before he finishes. Or D, he somehow manages to get a bulldozer up there to do the work for him.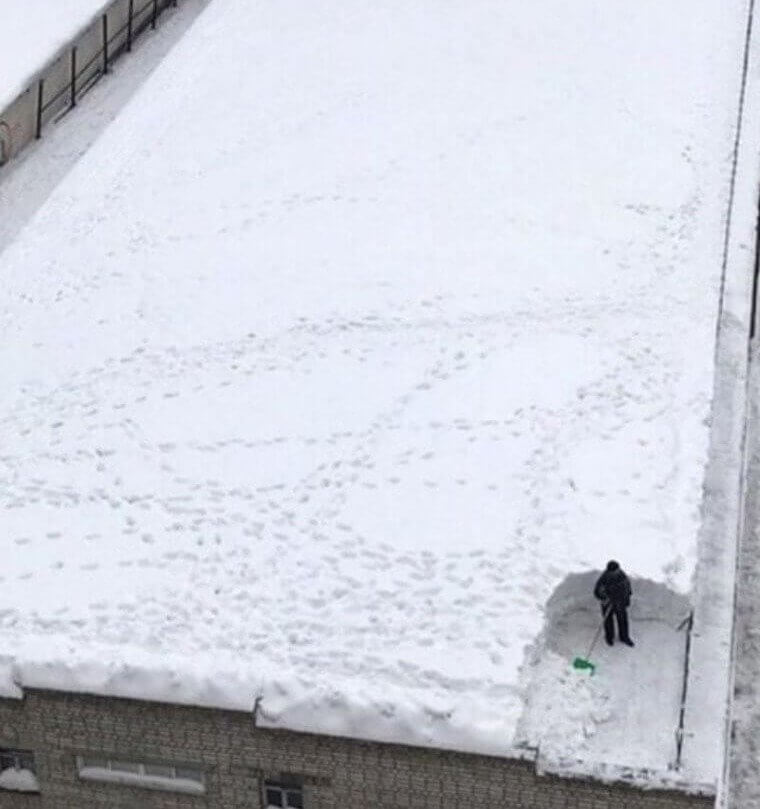 Okay, we're clearly just having a little fun with this. But in all seriousness, there is absolutely no way imaginable for this guy with that tiny shovel to get much done before snapping.
Talk About Having the Best Seat in the House
Oh, did we say the best seat in the house? Whoops, we meant to say the worst seat in the house. An easy mistake to make, right? Nah, we were just being sarcastic, clearly. All we have to say about this guy is this: at least he is making the best out of a horrible situation. After all, for most people, going to an exciting sports event like this doesn't happen very often.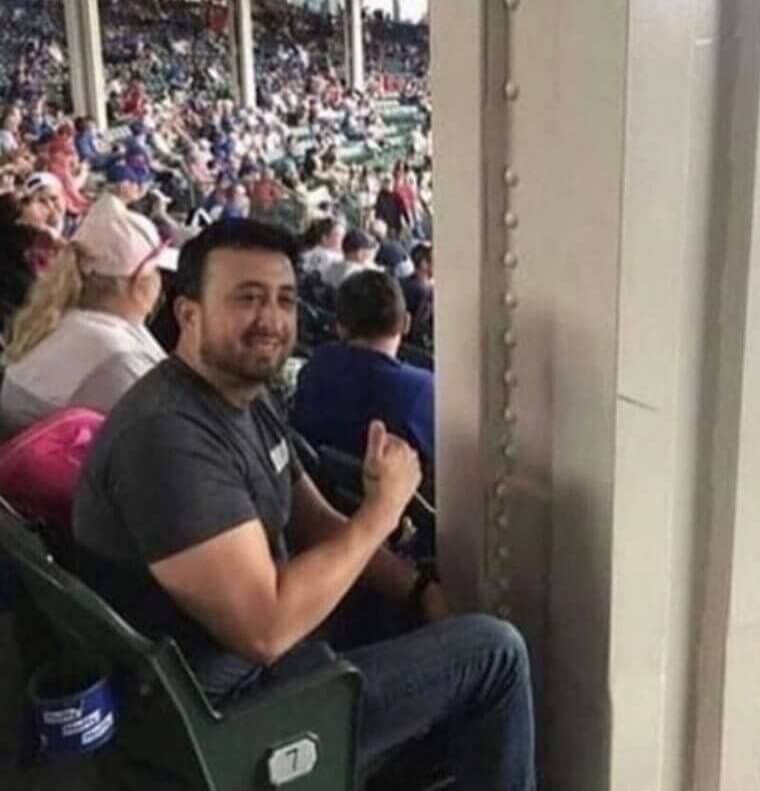 If you ever end up with a miserable seat like this guy did, it would be easy to get very frustrated. But not this guy! He's definitely a good sport.
Almost There
We're just taking a shot in the dark with this assumption here, but we are guessing that this girl had no idea that the tall tower behind her was about to fall down while the photo was being taken. We're just kidding, of course. The Leaning Tower of Pisa is famous for its nearly 4 degree lean, which is the result of an unstable foundation. Regardless, the pose she's making is pretty funny, considering people go there to try to pretend they're holding the tower.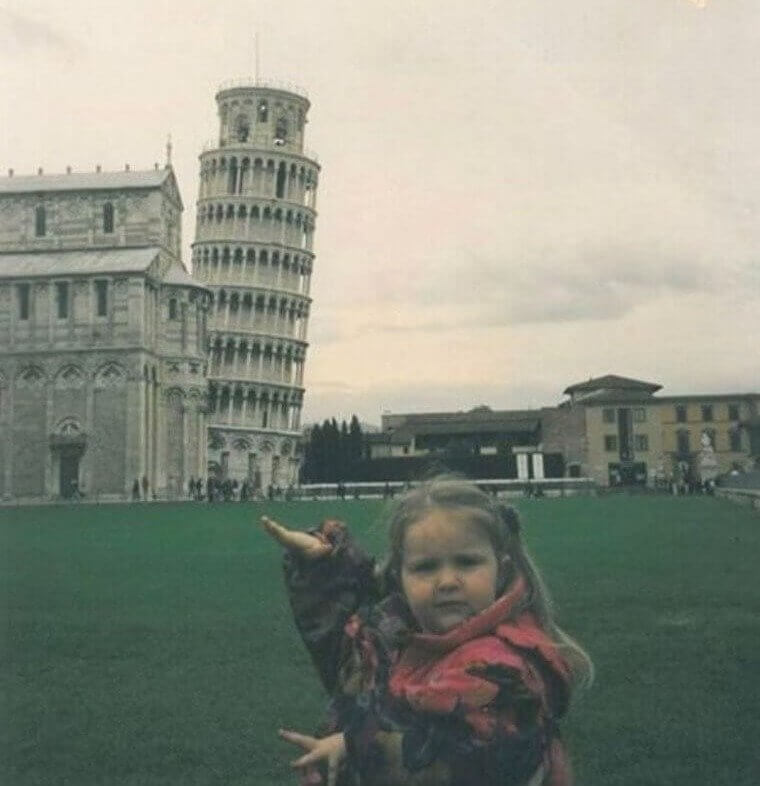 Instead, it looks more like she's trying to enchant it and make it collapse altogether. We can only imagine how hard this girl's parents were laughing, assuming they were taking this photo.
So That's What Winnie the Pooh Really Looks Like
Boy, did this guy ever let the cat out of the bag with this one. Not only is Winnie the Pooh actually played by someone who looks as if they hate their life, but he would also rather be on his smartphone than in action. Then again, in defense of this guy, we can only imagine how hot and sweaty it gets inside that costume. At least when he puts the head on, people can't see what frown he has underneath.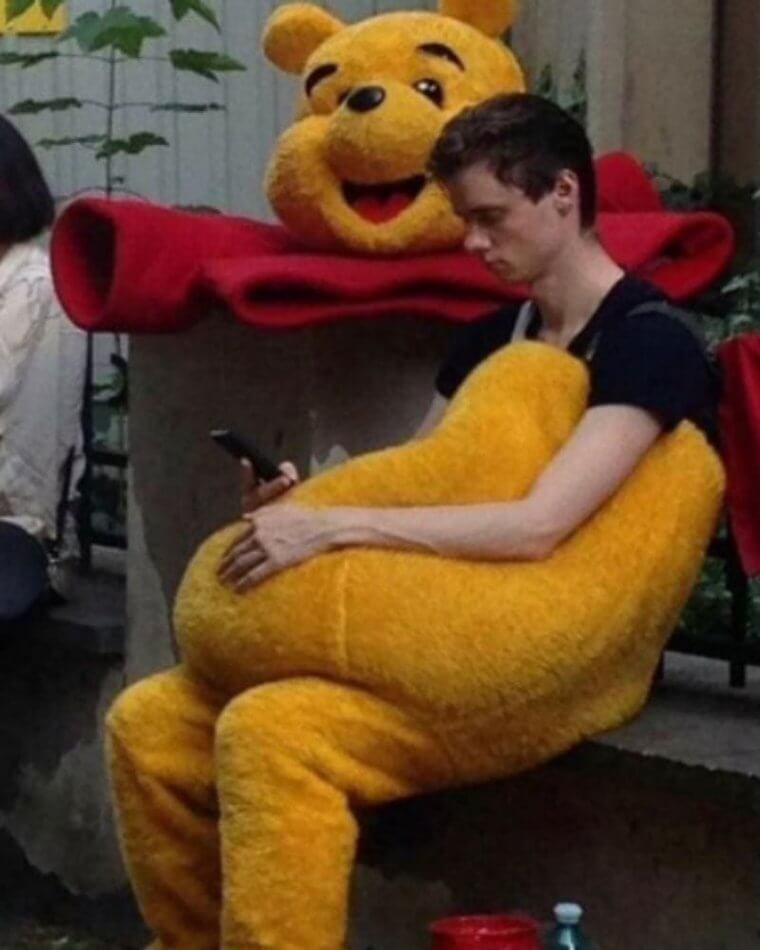 We sure hope that the kids didn't end up seeing the real-life version of the iconic character. That would have been a pretty depressing experience, wouldn't it?
Sounds Like Bert is Leaving Town on His Boat
Okay, so there are a couple of things that we'd like to point out about this photo. For one, it's kind of sad that Bert can't find any friends and, apparently, is skipping town on his boat. Secondly, this thing is loaded with grammatical errors that make us cringe. "I'm am alone?" "Where is frend?" "Where's is anybody?". We feel the appropriate question is - who made this product, and how did it get approved?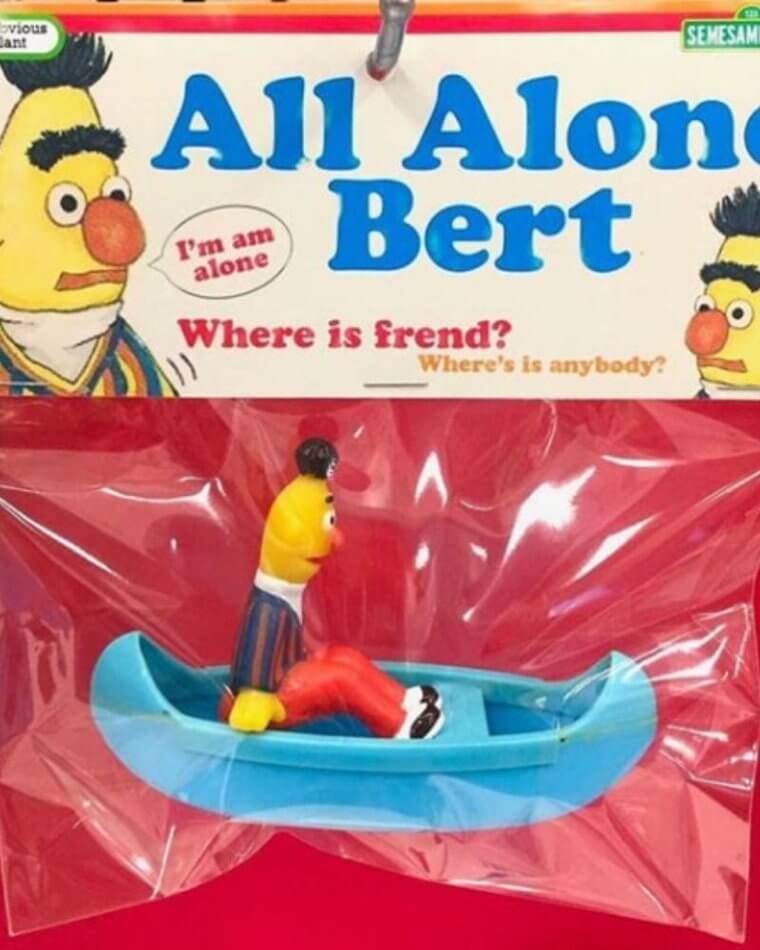 And most importantly - where the heck is Ernie? We hope these guys didn't have a falling out, because they make for a really good duo.
Speaking Nothing but the Cold-Hard Truth Right Here
Even as kids, we experience sad and depressing times. This tends to get amplified as we grow older, simply due to the nature of how life works. But, boy, does this little one have the right attitude or what? We all know how fried chicken can make us feel good when we're going through upsetting times, but does it really make that much of a difference? For this kid, though, it's all about the chicken.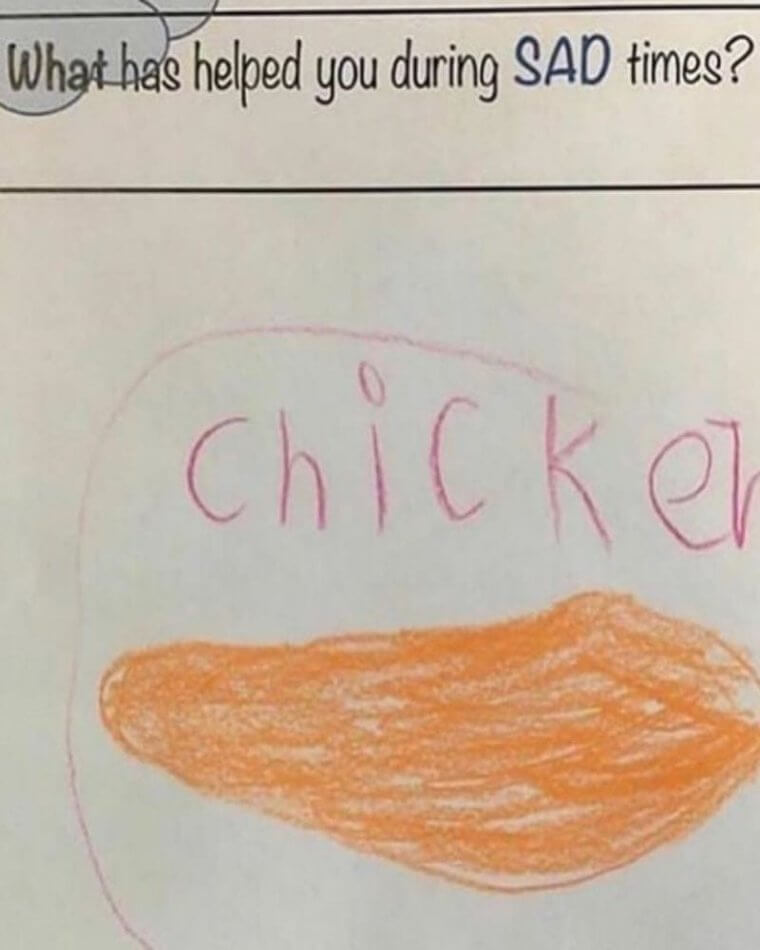 Also, we have to comment on the rather impressive visual illustration of this piece of chicken. It looks more like some sort of a pear, doesn't it? Still yummy, though.
There's No Baby in the Car… So It's Apparently Fair Game
We think it's great that people are more cautious around a vehicle that has a baby on board. However, is it really fair to drive recklessly around a baby-free vehicle? Also, we have to point out that this sticker is the tiniest thing we've ever seen. We are more than certain you would have to get a magnifying glass in order to read it when you're driving behind it. Try not to get too close, though.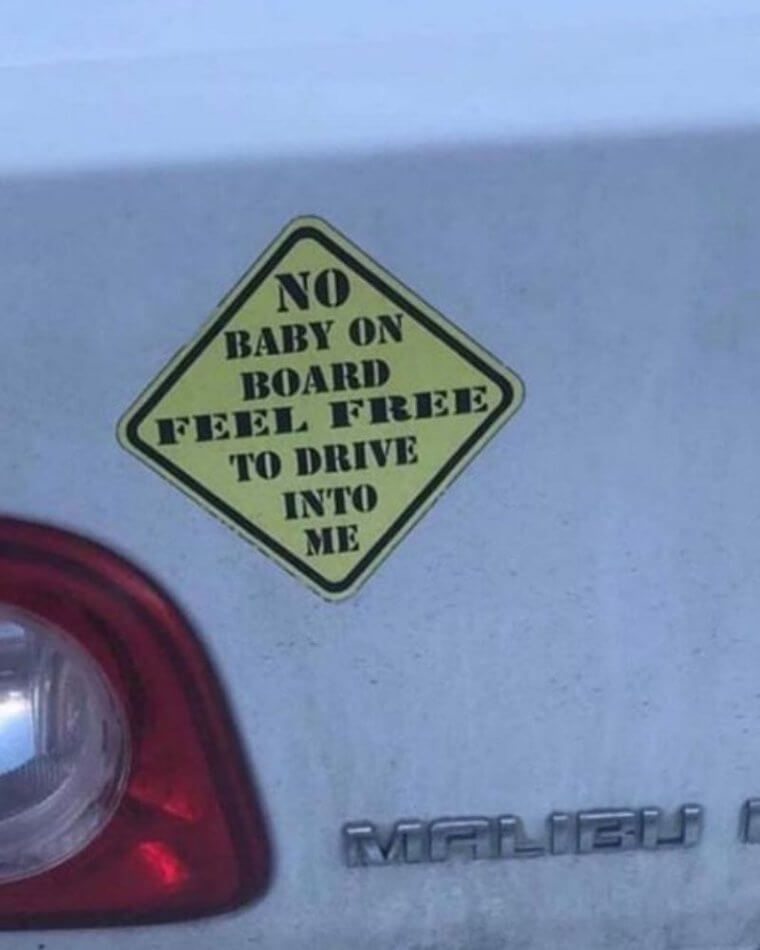 Obviously, this person is just being funny. Yet, what happens when someone actually does drive right into the car? Could they use the sticker as their defense in court?
It's Never a Good Idea to Lean on an Unstable Table
A very popular figure of speech is when someone tells someone else that they can "lean on them." As most of us know, this does not imply that the person is telling the other that they can physically lean on them. It's just a figure of speech that implies leaning upon someone for support and encouragement. This sign seems to be referring to the more physical aspect of the phrase, but we can't be sure.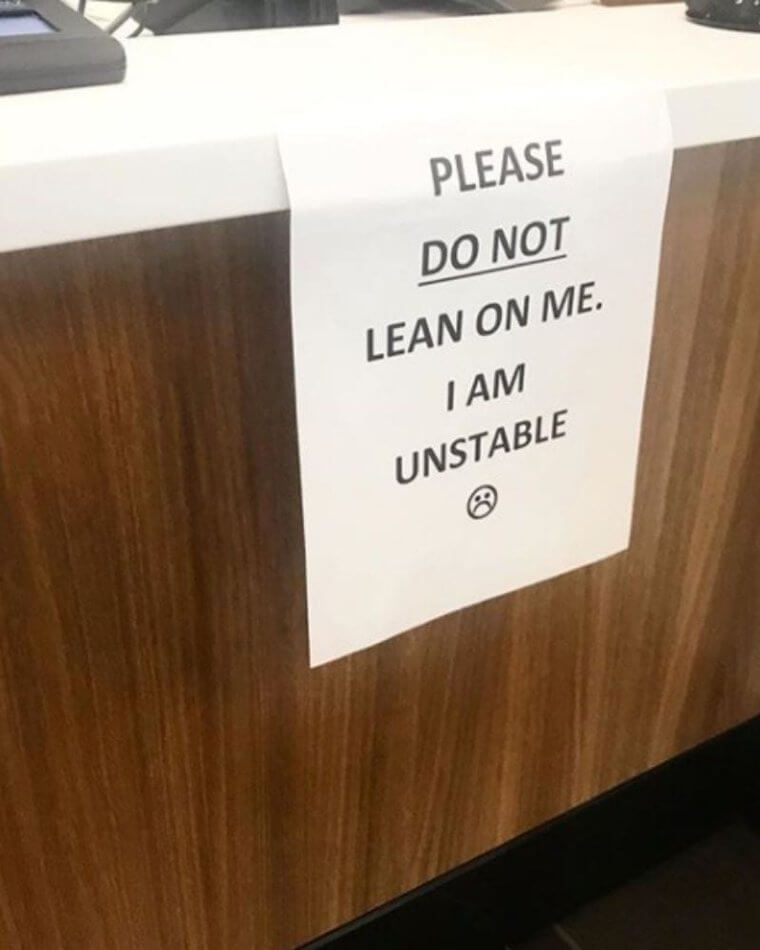 What's interesting here, and makes us suspect that there is some subtext to the note, is that the table looks pretty darn stable. But, who knows. Looks can be deceiving!
This Is Kind of the Opposite of What Hope Is
We think it's safe to say that this sign sends people some mixed messages. If there's one thing that we can all cling to in this world, it's hope. No matter how you feel about it. hope can keep you going even when life gets to the point where it feels unbearable. Many of us have been at the lowest of lows, when it feels that things just can't get any worse.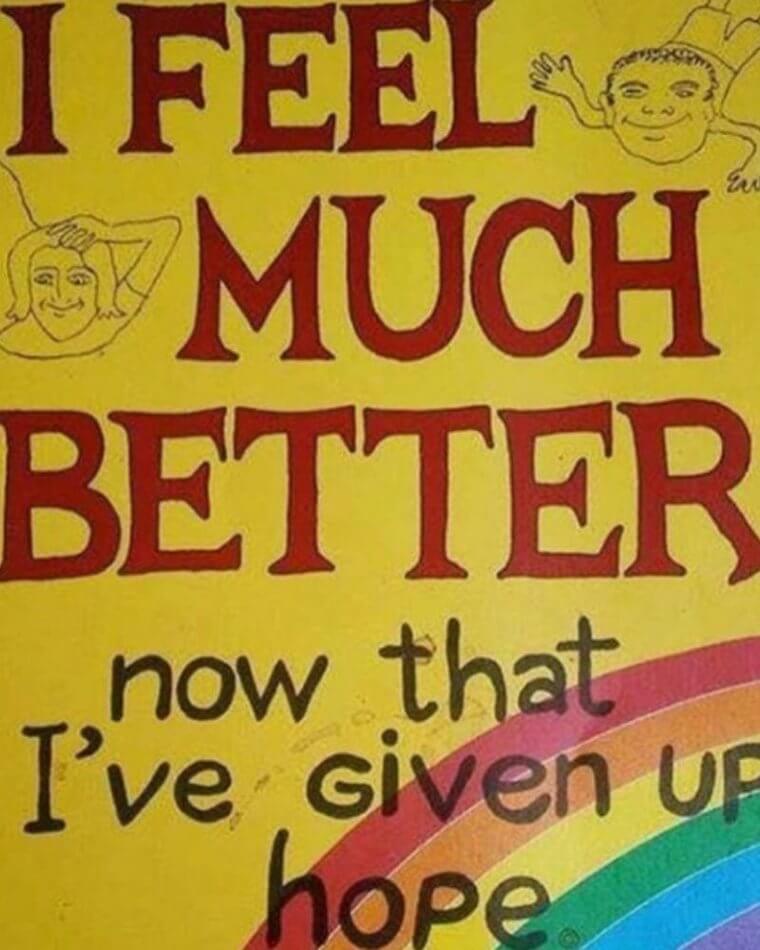 Alright, we just realized how depressing this just got. There's no reason to give up all hope just yet - at least not before you're done reading this article.
As If Someone Can Actually Control This
Telling people to not have an emergency at a certain location is about as smart as telling a dog to not eat the juicy steak you left right in front of them. In other words, it just makes no sense. We know one thing, though. Whoever is in charge of fixing that emergency phone better get to it fast. After all, let's just say there's a reason they call them "emergencies."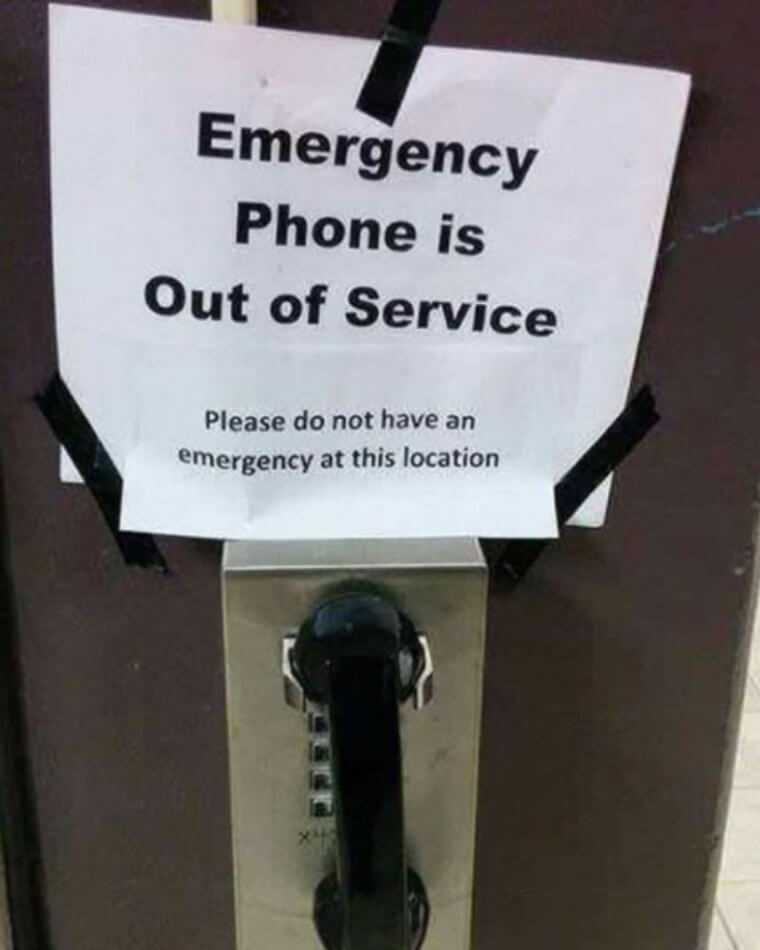 They happen out of nowhere, and you know what can help when they suddenly happen? A functioning emergency phone.
The World's Most Relatable Shirt
A lot of children would say their mothers find their life choices pretty disappointing. After all, mothers tend to have very high standards that they hold their children to. Having said that, we don't think we have ever seen a shirt like this one before. This is probably the best example of something that is both sad and funny at the same time. Maybe someone's mom made it for them.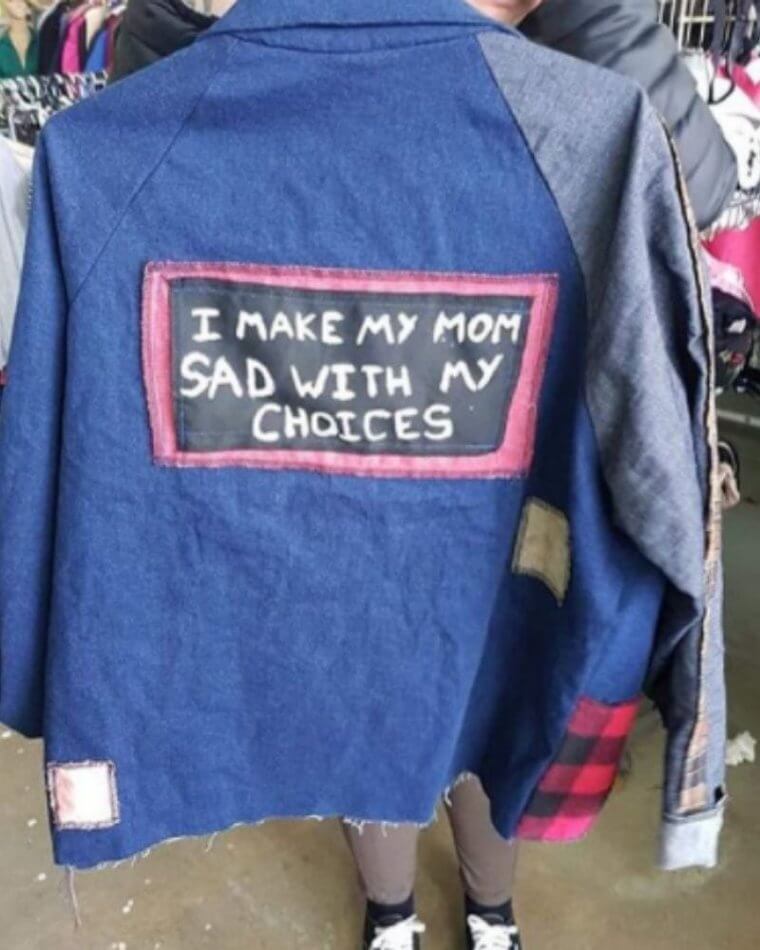 We personally would wear the hell out of this shirt. We should ask our mother to make us one!
Hang in There Frank, You Got This
There is something truly precious about this note, probably because it is likely coming from a young boy. We are assuming that the entire class had to write a message to God too, and we would like to know what the other kids wrote. We doubt the other kids' notes were as good as little Frank's, though. Little Frank is going places for sure with that attitude. You go, Frank!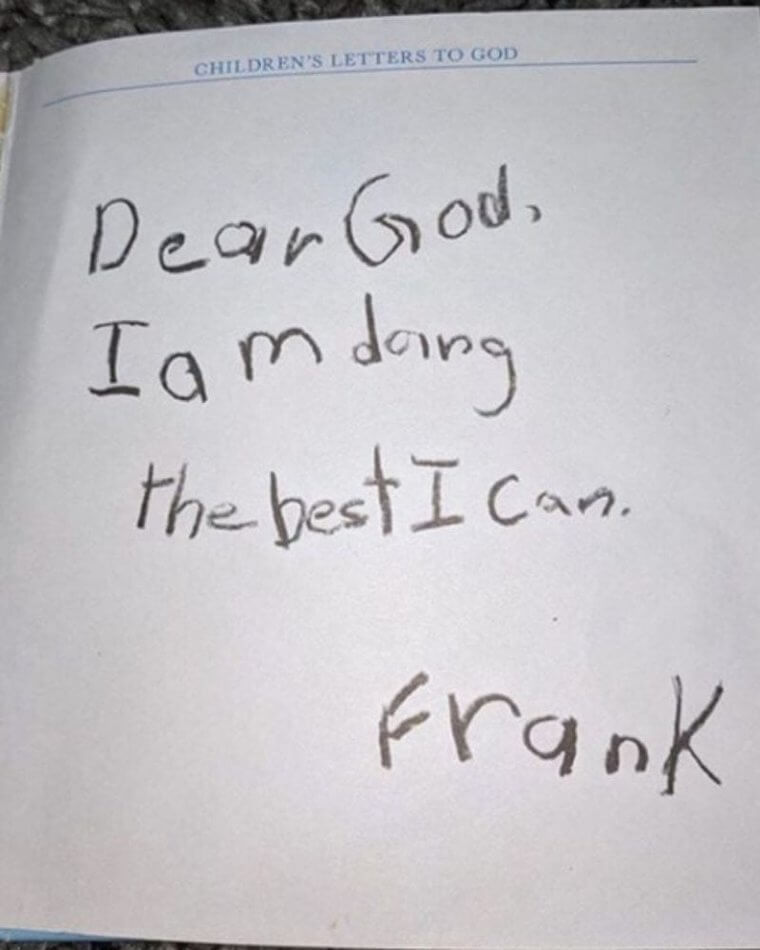 We love how honest and pure Frank is. Then again, if there is one thing that most kids have in common, it's their precious honesty.
Just Go Ahead and Use the Invisible Door
So, can we just address the elephant in the room here? This note says to just use another door. We just have the feeling that the door that doesn't work is the only door the store has. Which then leads to the problem of "another door." Does the store want you to get on the roof and find a way to crawl in through a chimney? But who knows, maybe there actually is another door somewhere.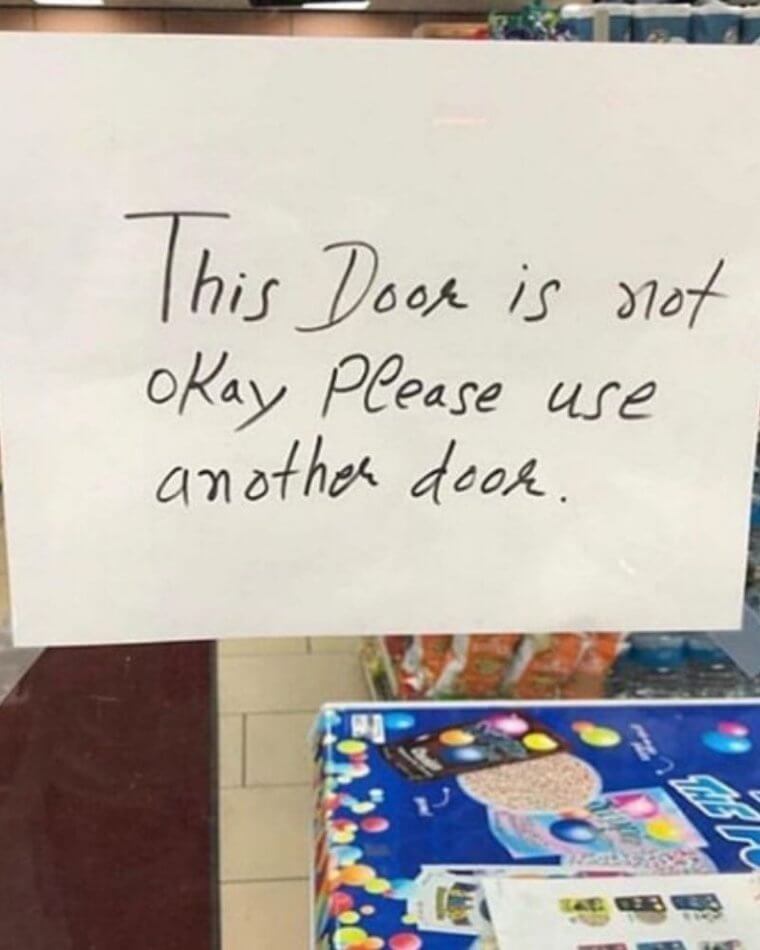 The word choice here is particularly puzzling. Typically, if a door is out of service, it will be pretty clear which door customers should use to come in (and out) of.
Shake the Bottle of Rocks Instead of Ringing the Doorbell
Can you imagine how annoying it would be to listen to a bottle full of rocks being shaken every time someone comes up to your door? Some doorbells can already be annoying and obnoxious enough as is, but a bottle of rocks is just too much to handle. But sometimes, you got to do what you got to do. So, as a short-term solution, we guess it could be bearable. But only short-term.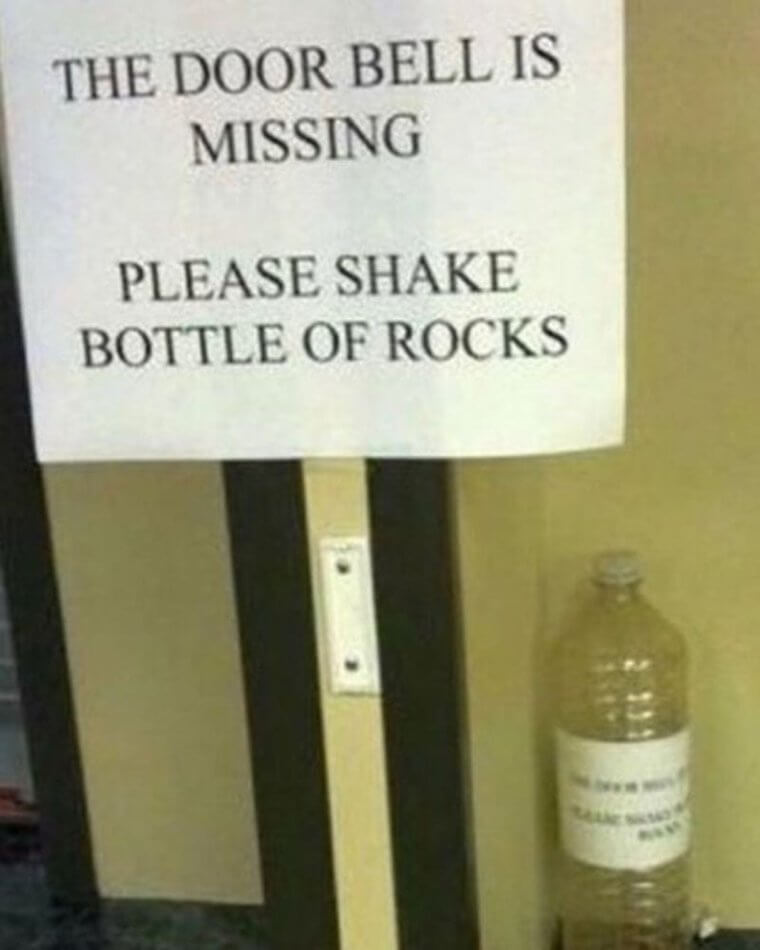 For the sake of all the people who reside in the building, we hope that the doorbell gets fixed as soon as possible. Nobody likes a headache!
This Guy Is Apparently Not in the Mood
This is one of those cases where we wish we could know more about the story behind the picture. During what looks to be an art class of some sort, this guy went ahead and drew what you see on his canvas instead of a pretty flower. If you ask us, we think it is pretty clear that the point the gentleman was trying to make is that he wasn't feeling any of this art class at all.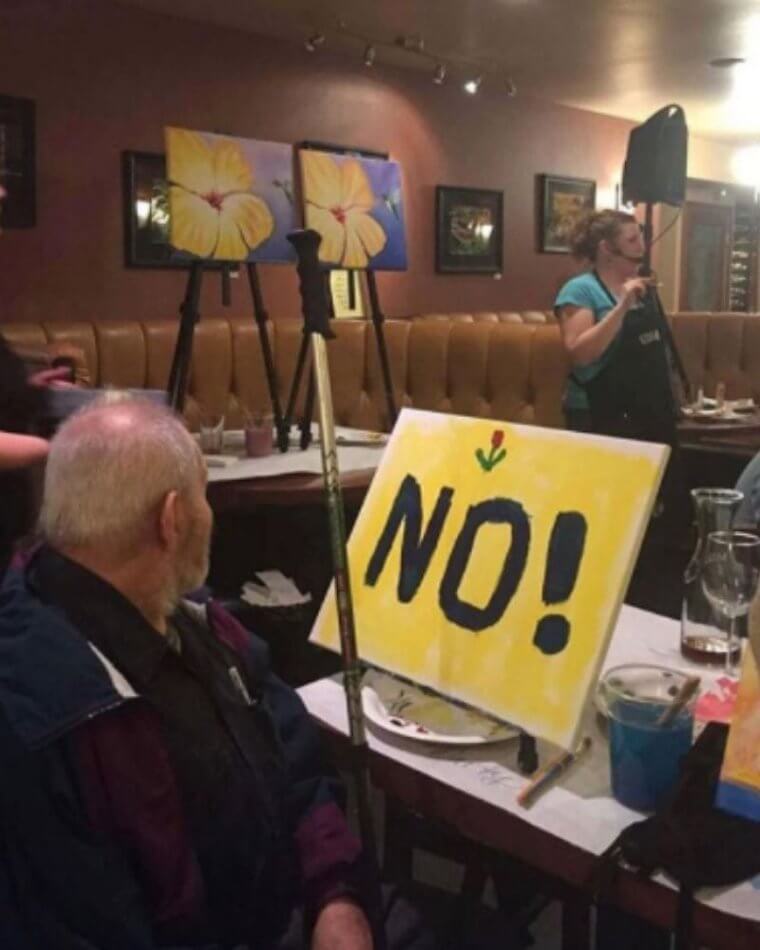 Now, sure, we are just making assumptions here, but this one is a pretty obvious one. This guy is not into this class, and he is not afraid to say it.
Time Doesn't Stop for Anyone or Anything
We think we speak for everyone when we say that there are times when it would be nice if the world would stop spinning. The death of a loved one is one of those upsetting, turbulent times. However, as we all know, time never stops, and this billboard is a perfect example of that. While this might seem cruel, we feel otherwise. This sign is actually quite funny, if you think about it.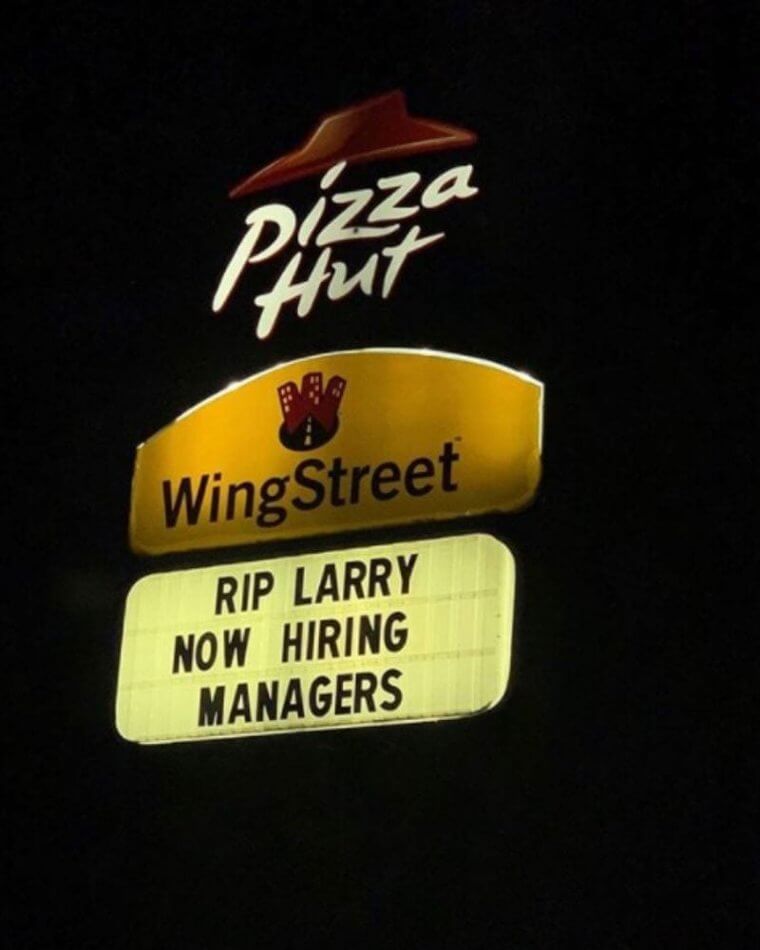 Pizza Hut is trying to honor the loss of Larry, but they also understand that they'll have to find a replacement for him. Not an easy thing to deal with for sure.
Here's to Having One Year Less to Live!
Well, we guess this is one way to look at your birthday. Then again, it is not like the person who had the birthday made the cake for themselves. So, we guess this was someone's way of getting a good dark laugh from the person celebrating. When you think about it, most people don't even like celebrating their birthdays when they reach a specific age, and this is probably the reason.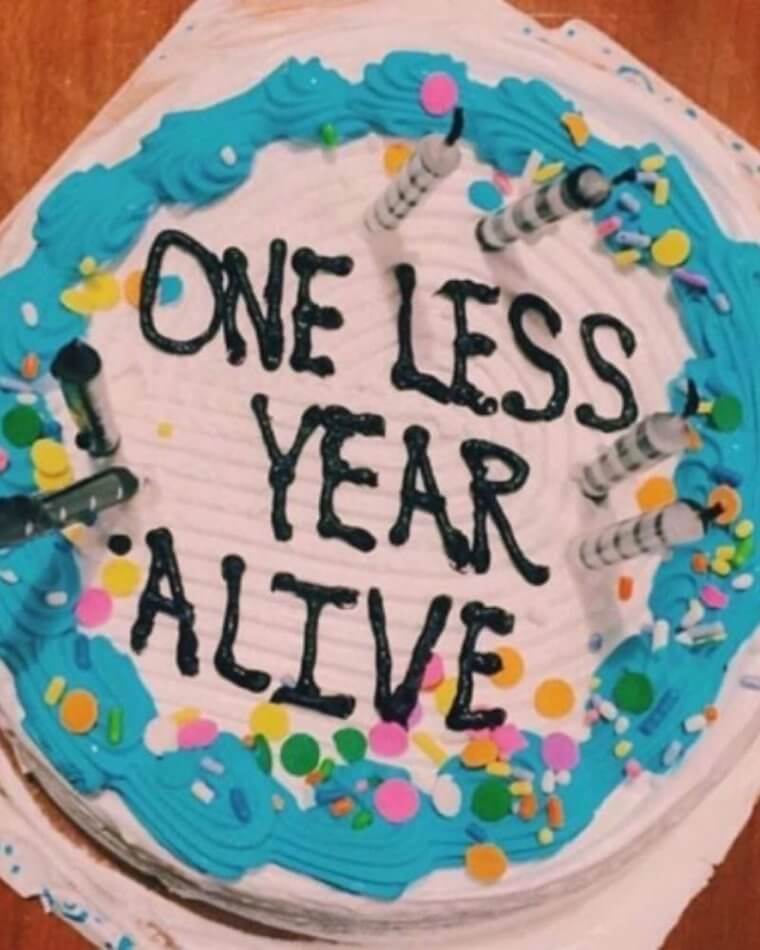 Most will agree that birthdays are more fun when you're young, and tend to get more forgettable in adulthood. Hooray for adulting!
Now That's Dark
It's the classic children's song that basically anyone in the world knows. You know, the one that goes, "If you're happy and you know it, clap your hands." Yeah, well, apparently, this note (which we are guessing came out of a fortune cookie) has a different take on that classic. "If you're happy and you know it, don't get used to it." That's like the perfect adult version for that song.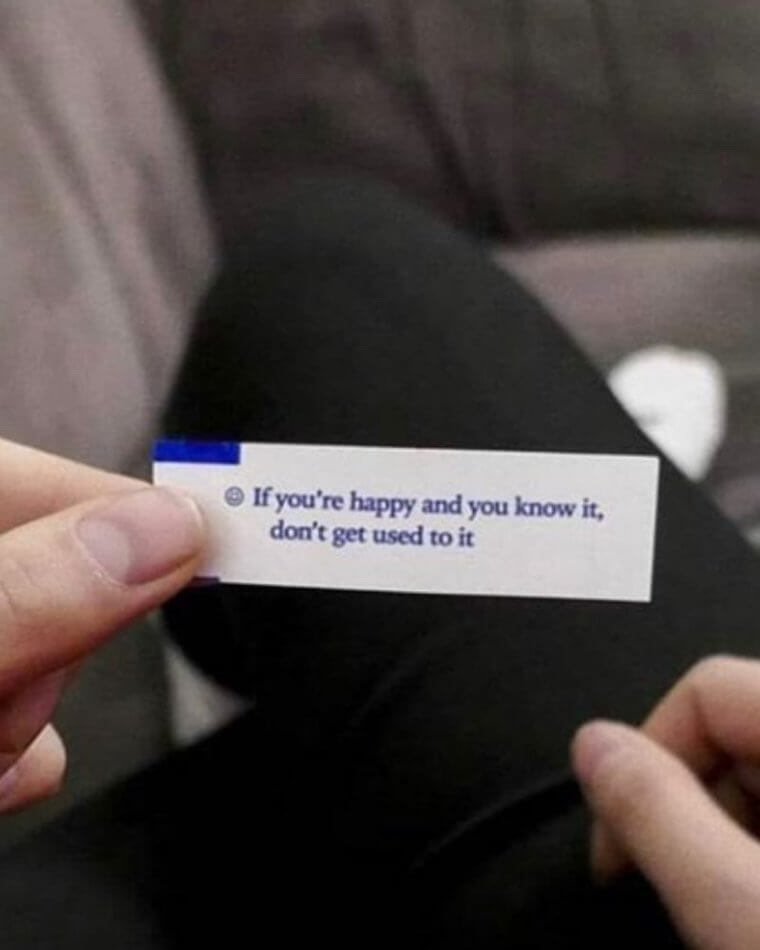 We just realized how depressing that is. Can we go back to the children's version, please, before we have a mental breakdown?
We Would Like Some Spaghetti Please
Puns are such an interesting thing, and most people either love them or hate them. Some probably couldn't care less either way, but most people are definitely not on the fence about this topic. This sign is clearly not for those who are against the very concept of puns. We wonder who put it up there, and is it right next to an Italian restaurant? If not, that's a missed opportunity right there.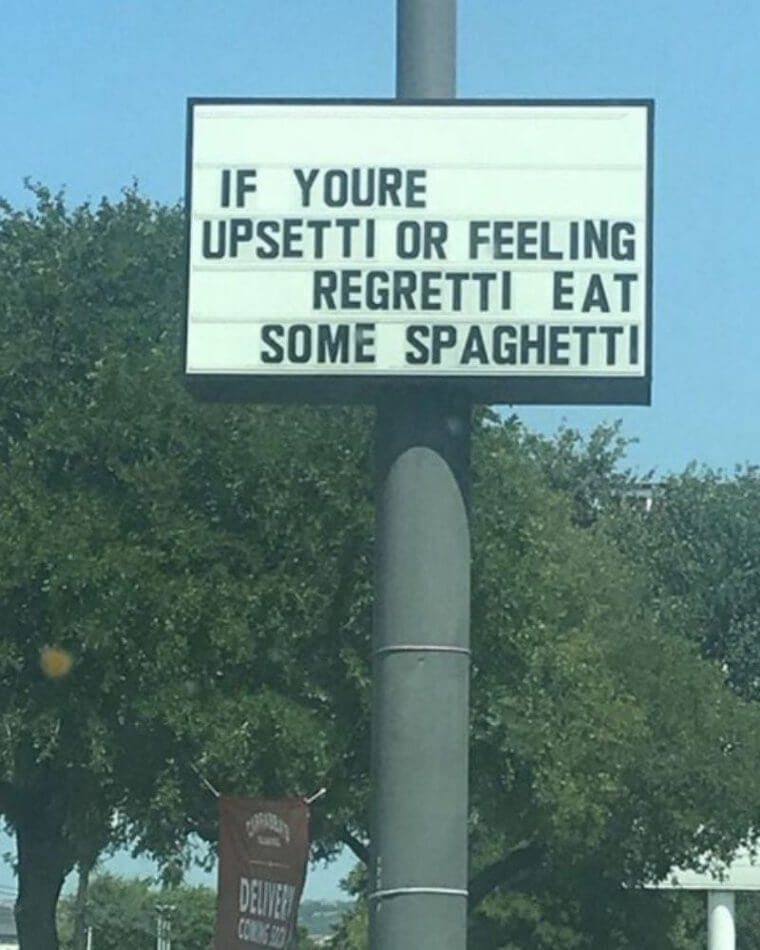 We do like a pun, but this sign is making us hungry, not giggly. Now, where's that spaghetti?
What Do They Sell in There?
The store in this picture is named, "Feelings," and needless to say it's making us pretty uncomfortable. We mean, what exactly do they sell here? They clearly don't have boxed feelings on display. Can they fix our feelings? Do they have a selection of psychologists ready to listen to our problems and fix us? Is that what happened to the man standing outside the shop?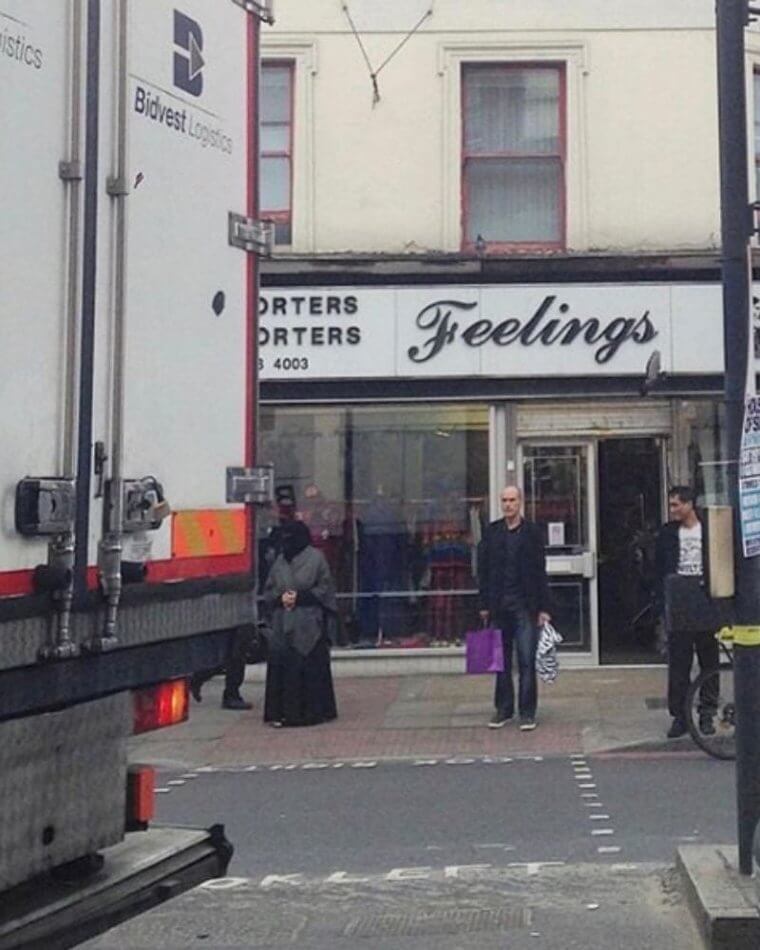 Maybe he got his feelings fixed, and was sent home with a gift bag. Sound perfect to us! If anything, this store's name got our attention!
The Most Relatable Note We've Read All Day
It's clear that the person responsible for making this note was trying to have a little fun. Otherwise, they would have surely phrased it differently. This note could have easily said something along the lines of, "This unit is out of service. Sorry for the inconvenience." Clearly, it says something else entirely, and is giving us all the feelings.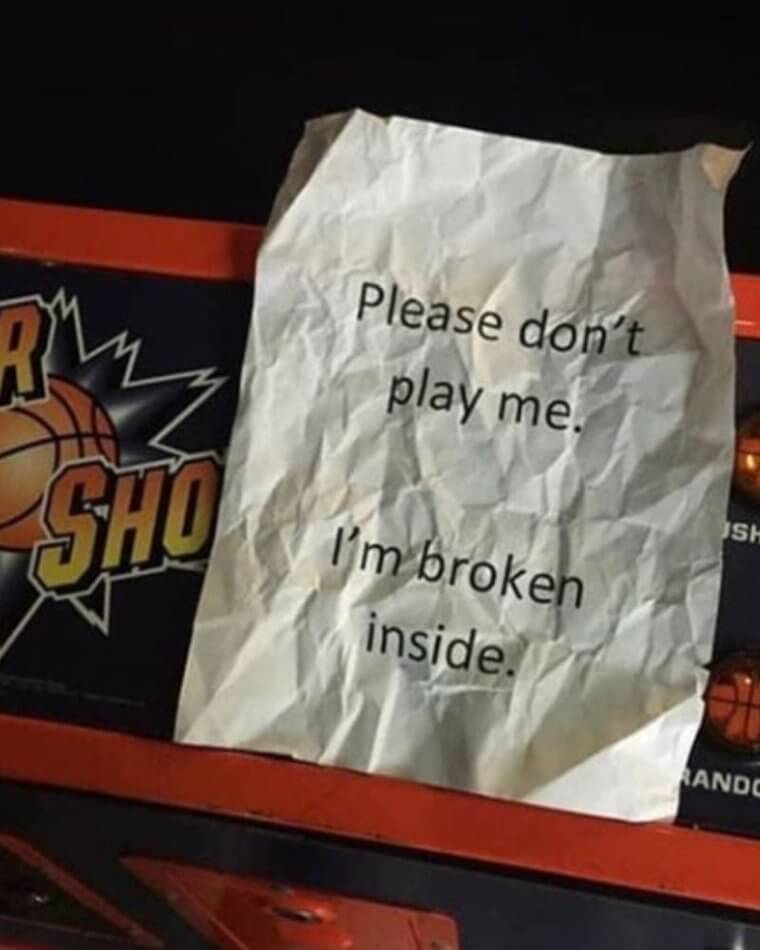 We hope this arcade machine got the loving attention it needed after this photo was taken and that it's no longer tragically broken inside.
Something That'll Probably Make Most Parents Cringe
We're actually sitting here trying to understand what the heck we are looking at. The boy in the picture looks like he's having the time of his life, but this can't be a safe thing to do. Sure, it may seem like a great hack for hot days, when you don't have a pool. Just wrap some plastic bags around your terrace and fill it up with water. But it might not be the smartest hack.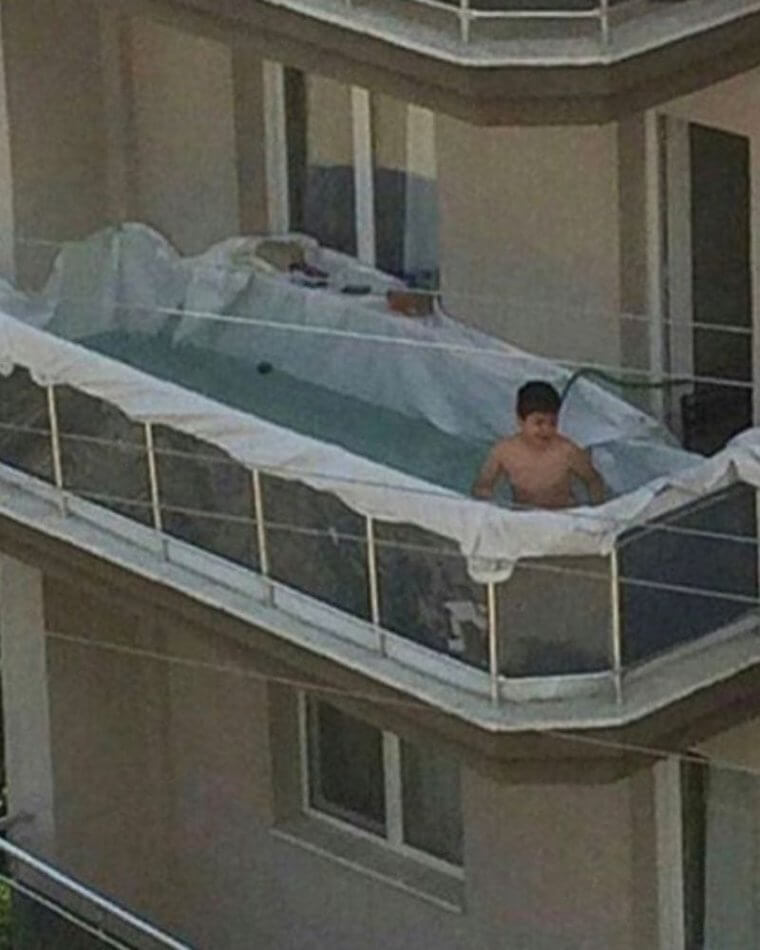 While this photo is funny to look at, we're pretty sure that this terrace won't be able to hold the weight of all this water, so it's a major safety hazard. Hopefully someone told these parents never to do this again, ever.
Not The Ideal Letter to Santa Claus
Most kids love it when the time comes to write a letter to Santa Claus. It's their chance to ask for all the presents they want in the world. However, it is safe to say that this letter here is not the average letter to Santa. Some kids learn the truth about Santa early on, sure. But this kid is being kind of mean!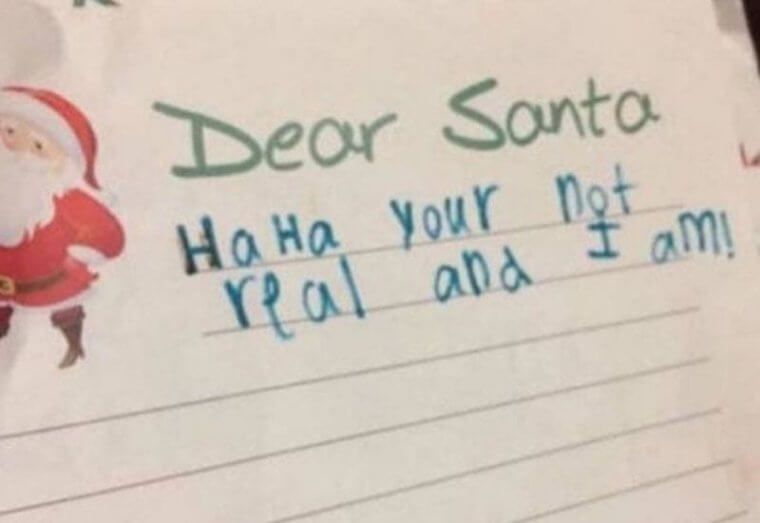 However, this kid is apparently really proud of being a living human being. We often take that for granted. It's nice to be alive, right? We need to learn to enjoy every minute of it.
Getting Eight Hours of Sleep in Only Three Hours
How do you get eight hours of sleep in only three hours? Well, the answer is actually pretty darn simple. You don't. Yeah, we know, did we really have to be so blunt about it? We would love to be able to get eight hours of sleep in three hours. Yet, let's be real, it can be hard enough to get three hours of sleep in eight hours on some nights.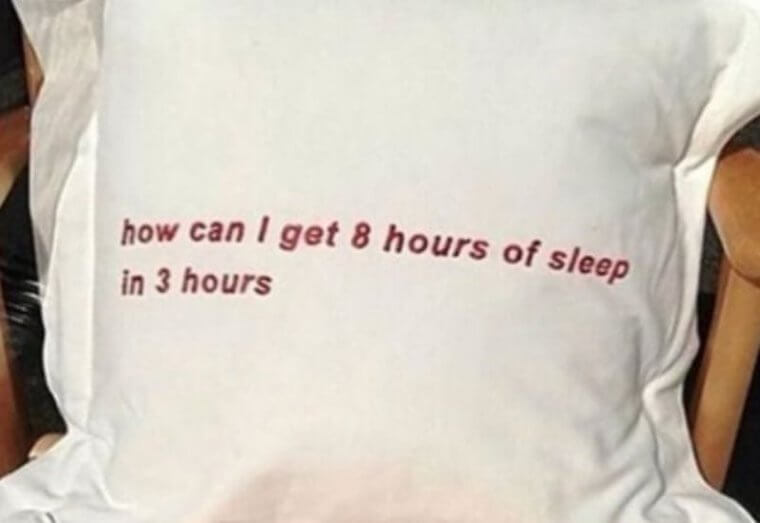 It looks as if this is a custom-made pillow and all we have to say is that we want this pillow. Time to whip out the old credit card and find an online store that sells this bad boy.
My Mom Deserves Herself a Microwaved Hot Dog
Nothing says "a job well done" better than a microwaved hot dog. Wait…what? Can you imagine how that mom is going to feel when she reads this special note? She is going to have a smile so big, it would have to be surgically removed. For certain, this is one of the most precious things that we think we've ever seen. We have to be honest, though. Sometimes, the simplest of things are nicest to have after a long, hard day.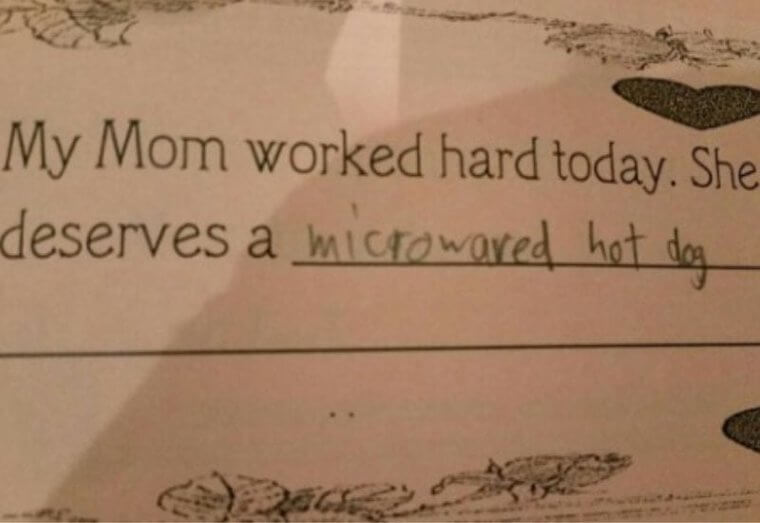 As a side note, what does a microwaved hot dog taste like? Well, in our humble opinion, it is pretty much impossible to mess up a hot dog, so we guess it tastes just fine.
All Your Dreams Will Come True... Or Will They?
Wow, this one is amazing. The store is called 99 cent Dreams, yet it clearly points out that everything is one dollar and up. Uh, something just doesn't add up here. So, basically, nothing in the store will fulfill dreams as nothing will be 99 cents. Yeah, that sign was too good to be true. This is exactly why you should always read the fine print.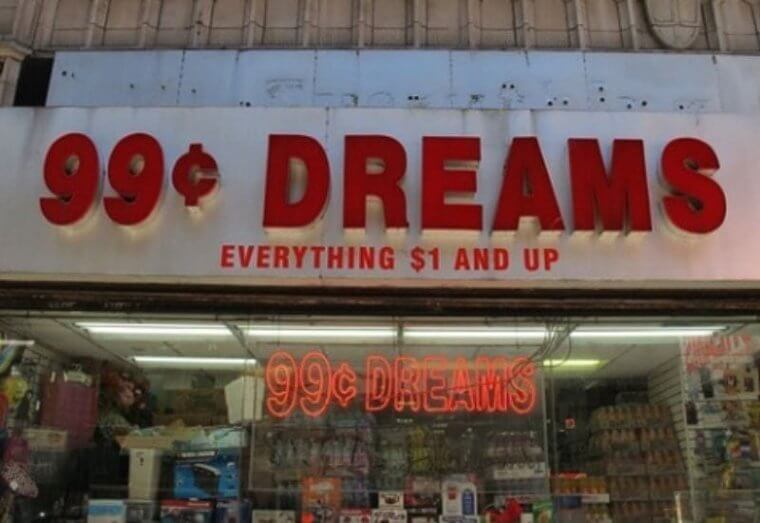 It's just so funny that the makers of the sign decided to add the headline right underneath the store name. Even one cent difference technically matters, we guess.
Stop Crying in Front of the Customers Please
The very first thing we think about when we see such a sign, is the type of work environment that inspires such a statement to begin with. After all, the company must have had issues with their employees crying during work. We kind of want to know why. Sure, it was probably just made to have a little fun, but you can never be too certain in this day and age.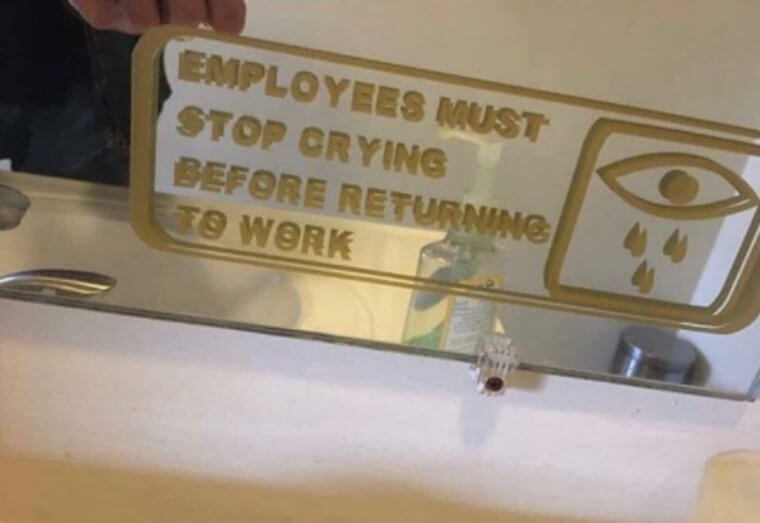 We also need to comment on the visual appeal of the sign because, dang, we are so impressed with it. That golden outline is just music to our eyes (if that even makes sense).
This Is Why Swing Sets Have Weight Limits
The body language of this man says it all. It honestly does more justice for this than we could ever do in words. The wooden beam supporting the swing set just split in half like a piece of bread would. Yep, you see, this is the exact reason why swing sets have weight limits. All the kids in the playground, assuming that's where this is at, were probably pretty upset after seeing this.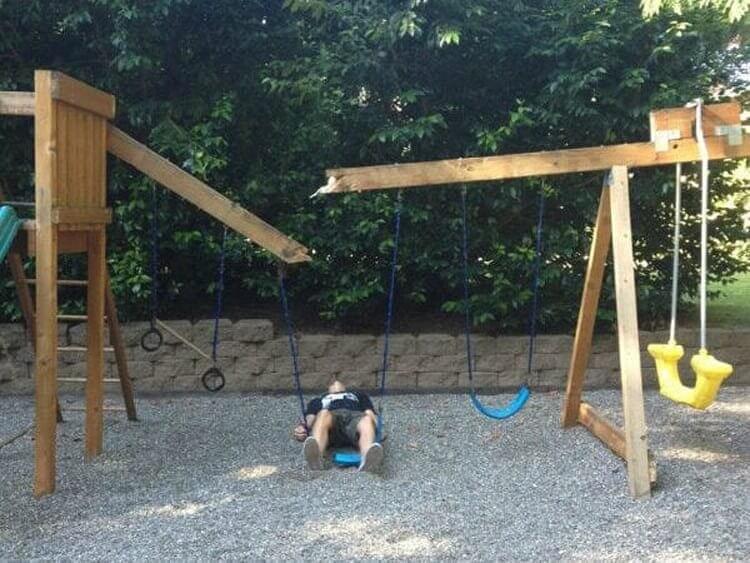 Way to go, adult who is clearly not done growing up. You've effectively ruined the day for a bunch of toddlers who were looking forward to using the swings.
Talk About Life Goals
When it comes to retail and fast food, perhaps no other corporations can touch Walmart and McDonald's, respectively. No, we do not have numbers to back that up. It is just to point out that the two entities are as popular as any in their respective markets. This mobile home park is clearly aware of that and points out to all outsiders that it is within walking distance of both. It just couldn't get any better.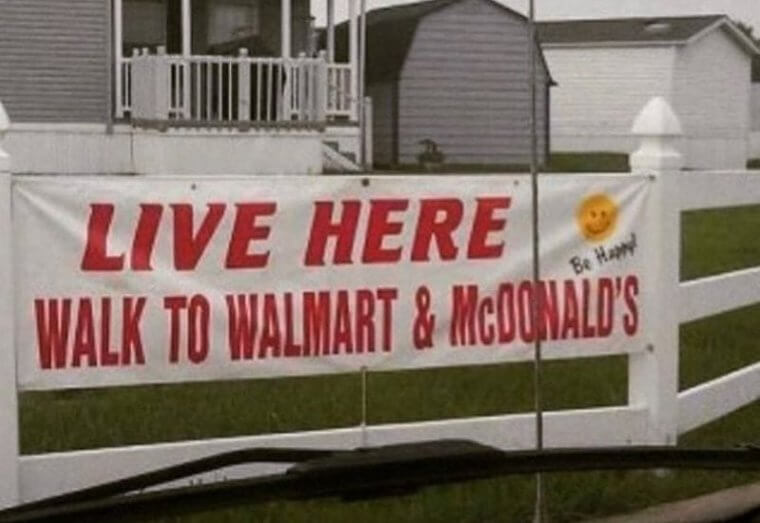 At the end of the day, if you live next to a Walmart and a McDonald's, you can survive. That is both cool and sad at the same time, don't you think?
That's Not a Pool Noodle
We have a feeling that the other people in this public pool would have a thing or two to say about this. And that's fair, too, because it's not every day that you see a couple of people in a pool munching on some instant noodles. We're not going to lie here - we're not sure how comfortable we would be swimming in that pool while these people are out there eating ramen.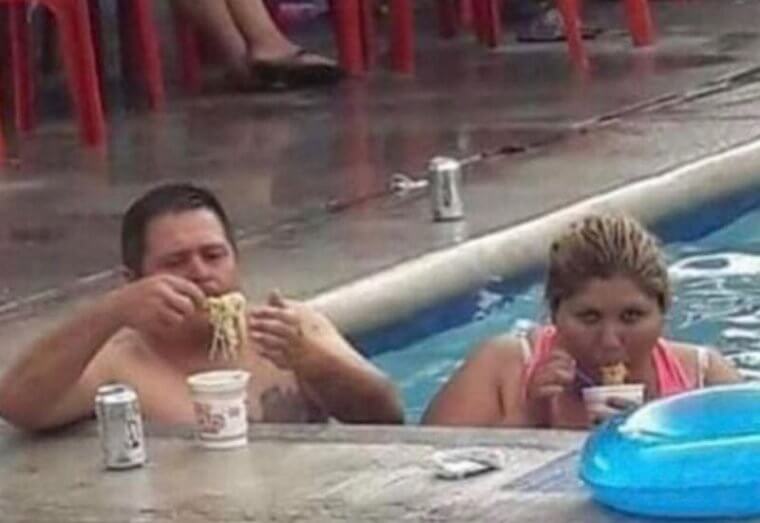 Maybe it's just us, but you've got to admit that this is, at the very least, somewhat unsettling. It is easy to imagine how some people around this pool were quite disgusted. Wouldn't you be?
Good for You, Buddy
Being lost is oftentimes a pretty unsettling experience. It usually involves emotions such as anxiety, nervousness, fear, and possibly even anger. So 'fun' is not something that is usually associated here. If you are going to be riding on this bus, however, you better enjoy the art of being lost. Otherwise, why are you getting on a bus that doesn't know where it's at or where it's going.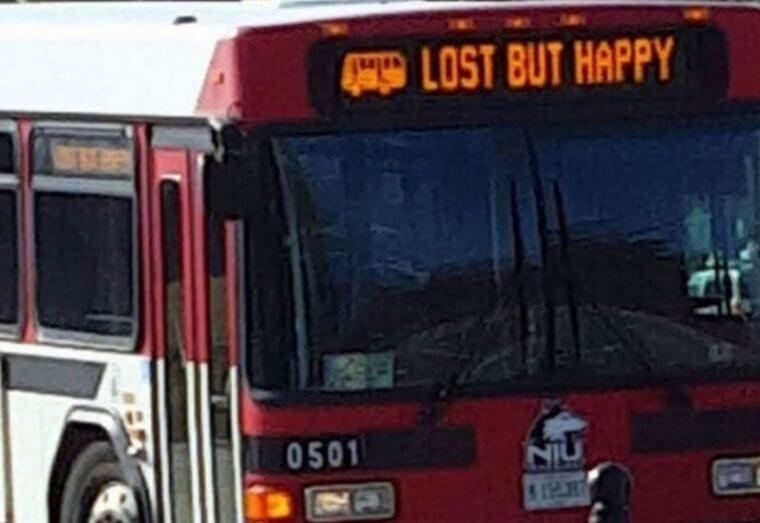 At least whoever got on the bus is happy. Well, the bus says that, but it doesn't necessarily mean the people inside are actually happy. Or are they? Interestingly curious…
We Promise It Will Get Better
Some people like to have custom license plates. These are pretty cool, in concept, as they can let you personalize your vehicle. However, we are not sure we have ever seen a custom license plate that is more depressing than this right here. This person, apparently, wanted the entire world to know that they're "so sad." Hopefully, it was just done for fun and games and that the owner of the vehicle isn't clinically depressed or anything.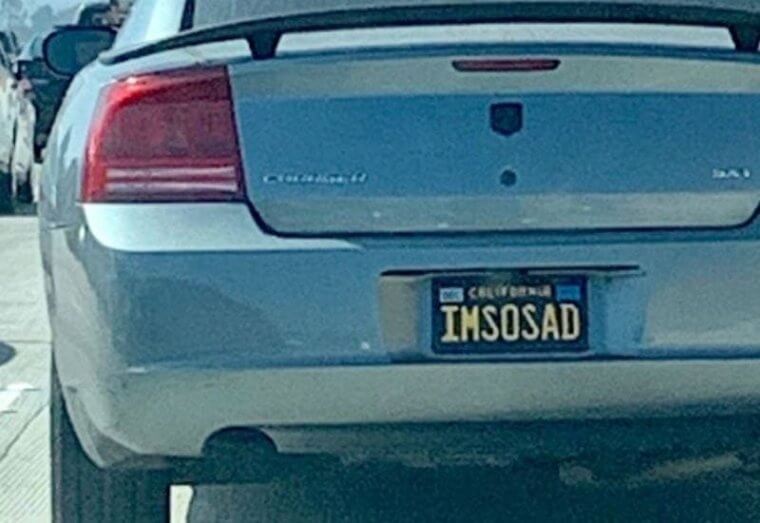 Seriously, why was the license plate made this way? We really want to know the story behind this photo. Chances are, it's never going to happen. We'll just keep making assumptions.
See if You Read This Correctly the First Time
Yes, this one here is some sort of an optical test. As you've probably already looked at the photo, we want to know if you read the notes correctly the first time? With the notes together, the intent is for them to be read "You matter, don't give up." However, most people read from left to right and not from top to bottom. As such, most will read this as, "You don't matter, give up."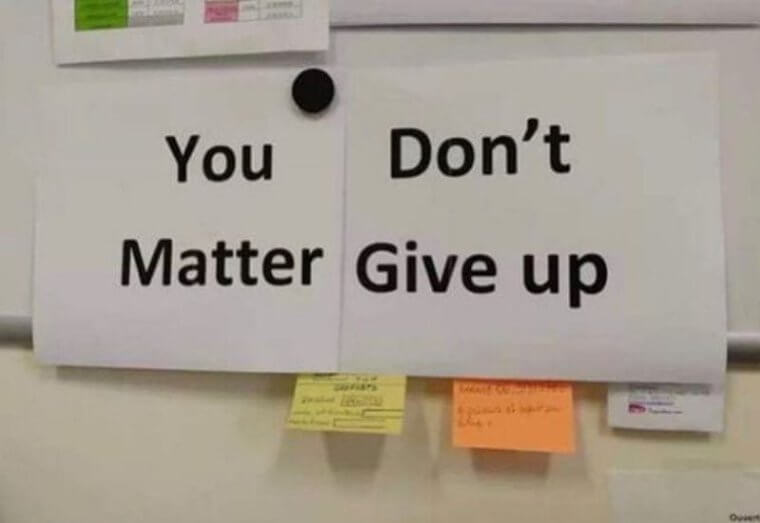 It's kind of crazy how horrible these inspirational notes end up being read. We are more than certain this was never the plan. Just an assumption, though. You really never know.
Now This Is Ironic
If you ever find yourself in a position where you have to explain to someone what irony is, this is a pretty nice example of that. We feel really bad for the semi-truck driver, but we really have to comment on this one. Did the driver really think they could drive under that bridge? While we don't have the full story, it seems pretty clear that this person wasn't driving through where he was supposed to be driving.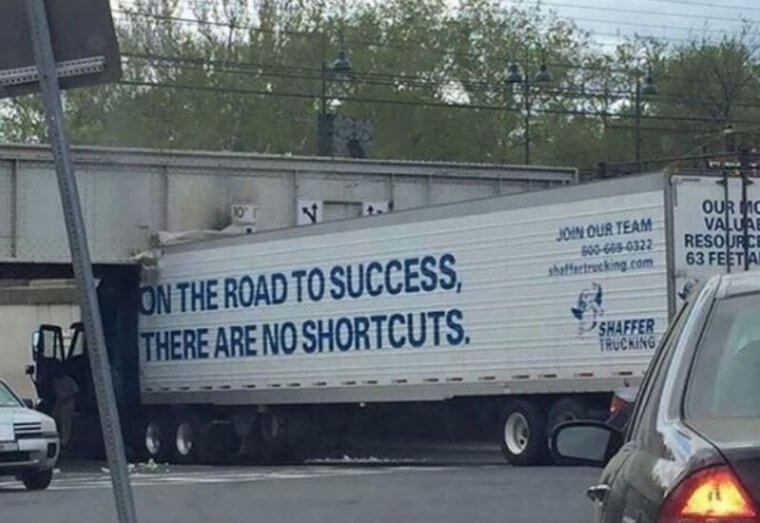 Apparently, they should have listened to what the semi was preaching. We just hope no one was injured in this accident, but we bet it caused quite a bit of traffic anyway.
Humans are Basically Just Cucumbers with Anxiety
Well… we guess that's one way to think about it. So, basically, what you're saying, VeggieTales, is that all people have a spot in the franchise. That sounds pretty darn cool to us, but that's because we remember watching those movies as children. Seriously, though, it's kind of crazy, isn't it? The human body is really 90% water. Stop and think about it for a moment. We really are just like cucumbers, aren't we?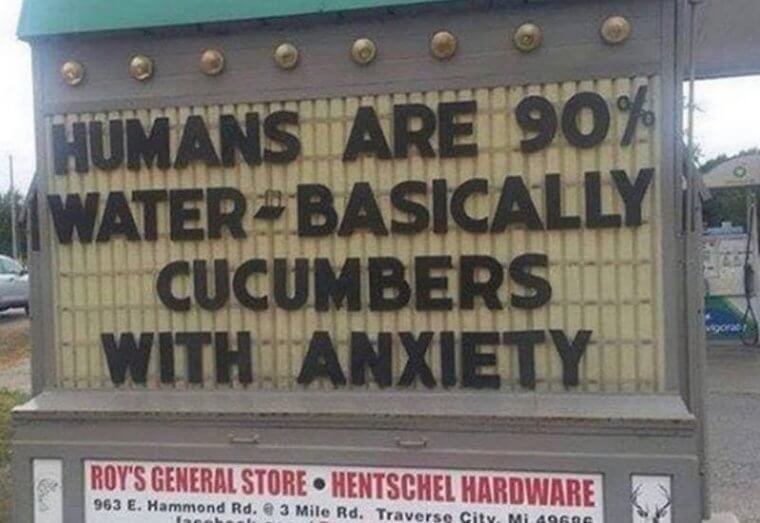 What we appreciate the most about this, however, is the addition of the anxiety part. You better believe that anxiety is never going to go away in human life. Unfortunately.
This Guy is Quite Happy that the End is Near
There are a lot of people who will sometimes claim that the end is near. We are not here to comment on those types of people. What we are here to do is analyze this picture as it is quite interesting. And it is not so much the guy in the white beard and robe who is holding up the sign. It is really the jogger coming by and giving him a high five. We can't stop looking at this photo. Isn't it hilarious?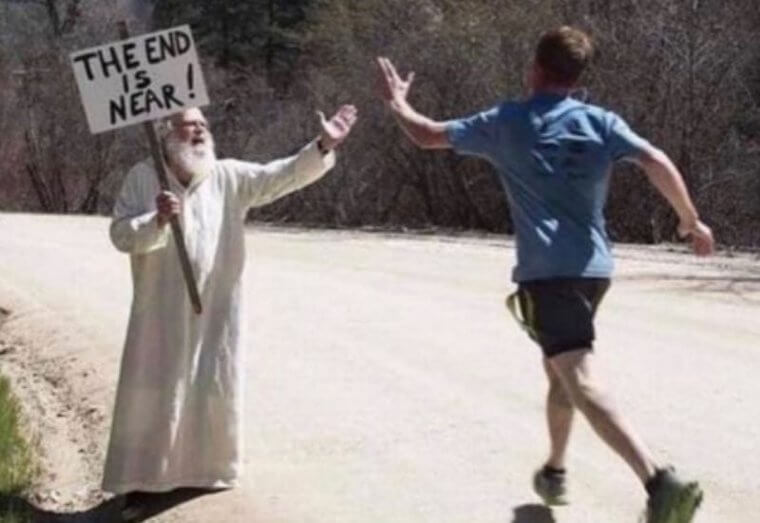 From what we see, it appears as if the jogger is pretty happy that the end may be near. Then again, he probably was just giving the dude a high five. That's probably what we would've done.
Quite Possibly the Scariest Kid's Costume
We don't like to hype things up, as it can unintentionally make matters worse. Your expectations become increasingly high and quite impossible to be met. In this case, though, we feel confident in saying that this could quite possibly be the scariest children costume we have ever seen. Wow, even though we know this is just a child, we wouldn't want to see this coming at us in the middle of a dark alley.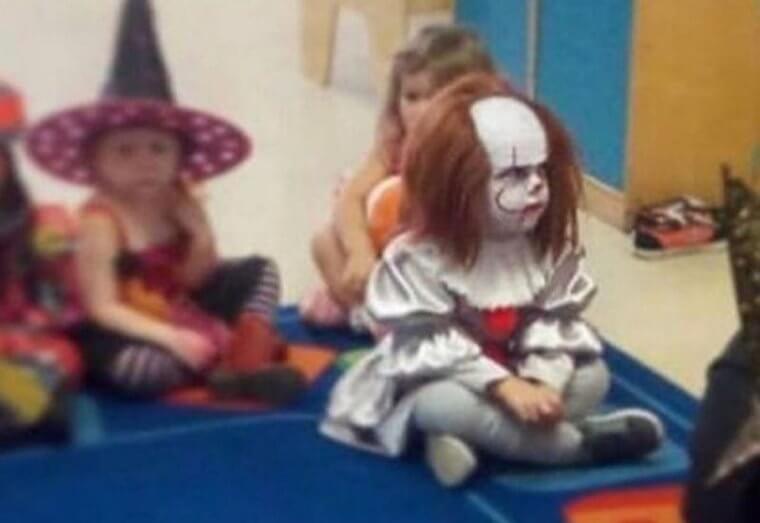 It seems as if this kid is going as Pennywise for Halloween. All we know is we hope their parents didn't let them watch the actual movies. They are probably a bit too scary for children.
How Everyone Feels About the Global Pandemic
The library had to know what they were doing, right? Look, you just cannot type this note up with a straight face and not know how ironic it sounds. We are just doing some guesswork here, but we are quite confident that the library wanted to move sections around for their own personal reasons. No way they thought that post-apocalyptical issues were all of a sudden something for people to worry about in this day and age, right?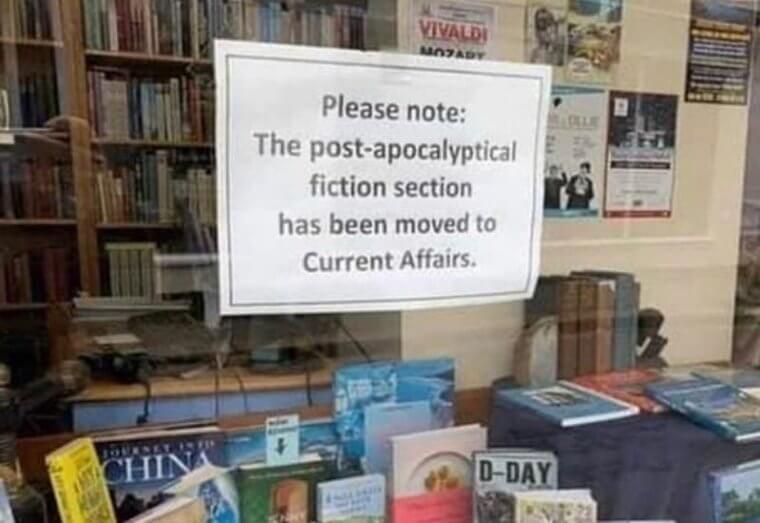 On top of getting a good laugh, this also achieved the unthinkable. What if we are just flat wrong and we suddenly have to worry about post-apocalyptical problems.
Short, Sweet, and Right to the Point with This One
"Roses are red. I'm going to bed." That's about as straightforward as it gets when it comes to writing poems. Heck, the writers of the poem didn't even bother saying what everyone says after "roses are red," which is, "violets are blue." We wonder how many people stop this person to comment on this shirt. Probably not as many as we think, but maybe we are wrong. Maybe they are stopped every five minutes or so.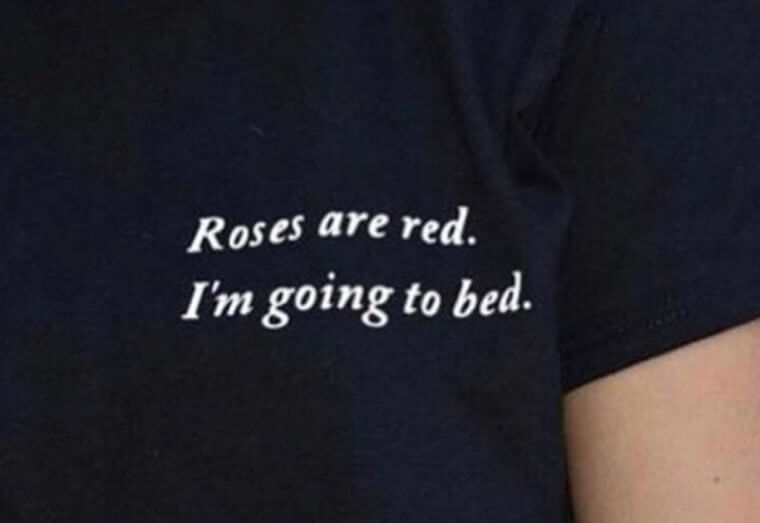 Next time someone wants us to write a poem, we might steal this one. Wait, did we say, "steal"? Sorry, we meant, "borrow." We might borrow this one. Same difference, right?
It's the Thought That Counts
Fathers around the world are going to be so torn with this hilarious photo. On one hand, this daughter wants her father to know that she loves him. Oh, how precious. On the other hand, she chose to do so by vandalizing his car. Just look at that smile, though. How could anyone ever be mad at that? At the end of the day, it is the thought that counts.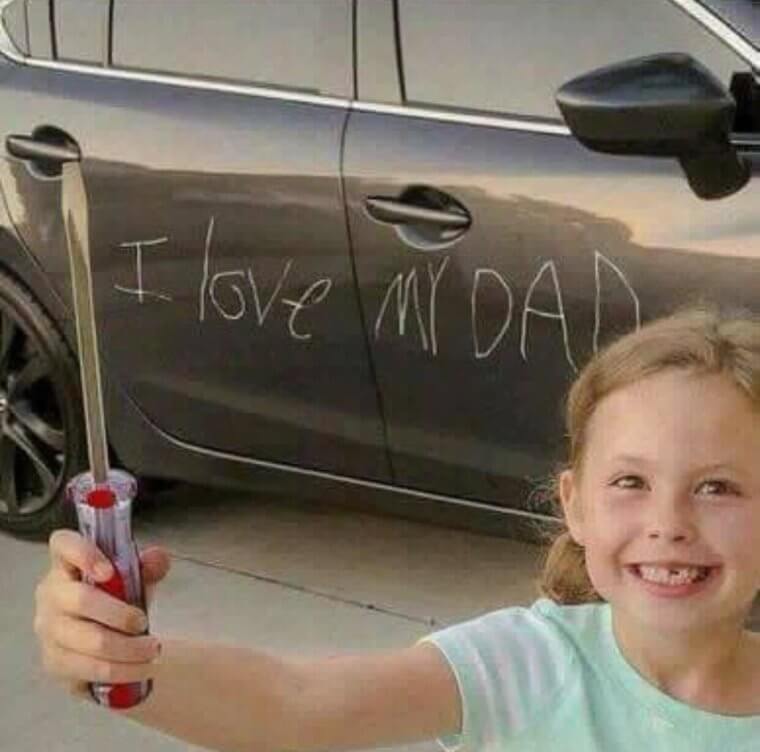 At least this father can cruise around knowing that his daughter loves him. Hey, the whole world is going to know it too, and every father who sees that will be jealous of him.