This article was originally published on
Kueez
Every once in a while, a restaurant receipt will come through with the weirdest note. It could be a waiter who wanted to send a customer a message, a cheap customer who decided to leave a bad joke instead of a tip, or even a strange request sent over by a customer or a waiter. The point is, that there are quite a few unusual and incredibly entertaining notes left in restaurants out there. Here are the most side-splitting ones, ready for you to enjoy. Bon appetit!
"Abraham Lincoln" Was Here
We're so happy that tips and bills cannot be paid with mere signatures, otherwise, we're sure total chaos would have ensued. Just imagine that all you had to do to charge your account was to sign your name, or any name for that matter, on a random piece of paper. Who wouldn't try to put their tab on Abraham Lincoln if that were a thing?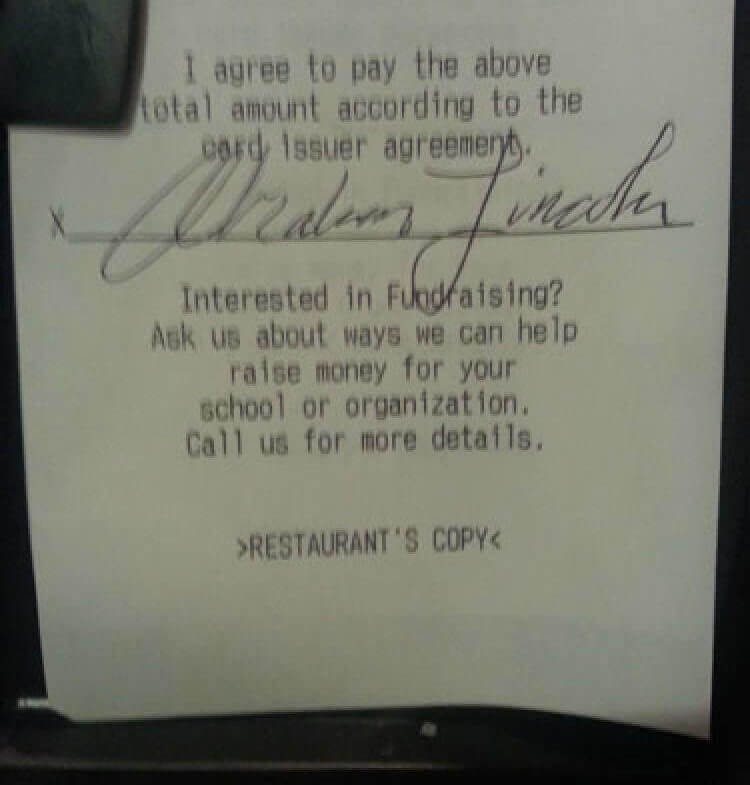 This customer was feeling presidential, or at least funny, when they signed the famed American president's name on their bill. Wasn't he famous for being honest?
​Sharing "God's Work" Through A Tip
Not every person who scribbles something on the check is trying to be mean or funny. Take this next person, for example. They were just trying to celebrate God and share their faith with the waiter.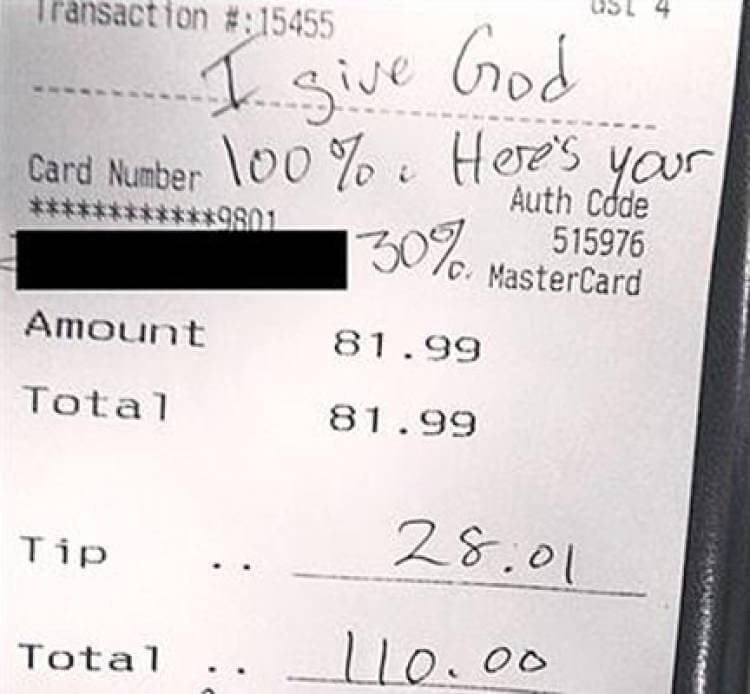 We're not sure what encouraged them to share their religious beliefs with a random stranger that night, but what really matters is that the waiter still got a pretty good tip, so good on them!
​The Smoothest Pick-Up Message
If you've ever worked in a restaurant then you'll know that pick-up lines are thrown around on a daily basis. Customers may sometimes get a little bit friendlier than they should, and waiters might sometimes also show some love.
While this note is completely harmless and kind of sweet, it is heartbreaking that we'll never know if the waiter ever texted them.
​Hopefully This Person Will Come Back When They're 100
Going out to celebrate your birthday with friends and family at a restaurant can be lots of fun for all those involved, even the waitstaff.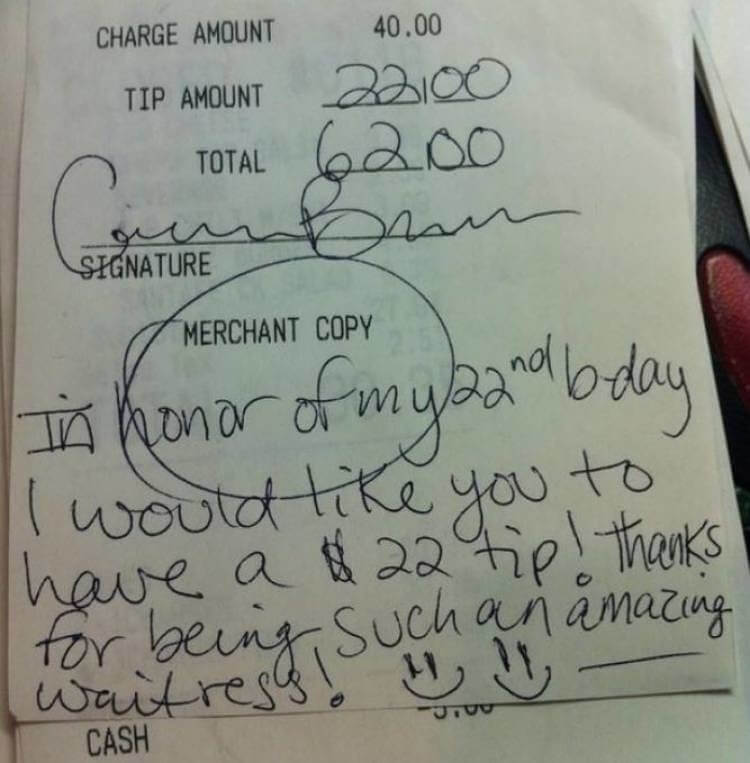 And by the looks of this note, this person had an incredible time on their 22nd birthday, and even decided to leave a tip that matched their new age. Hopefully, they'll keep the tradition going and make waiters and waitresses happy for years to come.
​A Bonus For Well Behaved Kids
While restaurant notes are usually left by customers and some badass waiters, sometimes the restaurant management will also leave a little message in there. Take this one for example.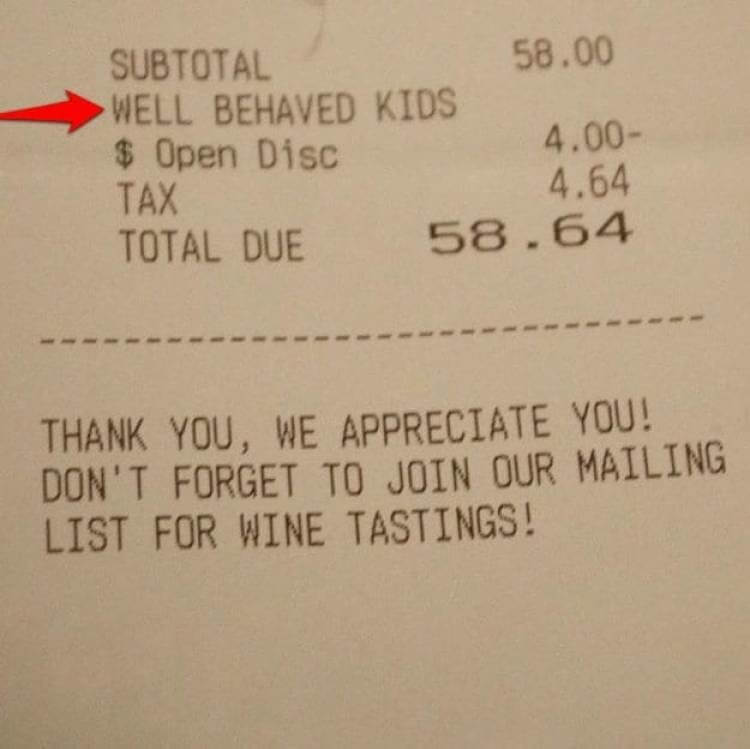 Apparently, the restaurant gives away bonus discounts to parents who come through with well-behaved kids. We wonder if the kids also get some kind of incentive here.
​Well That's Just Rude
Yes, there are wonderful people out there, but there's also a large group of rude customers who simply love to patronize others.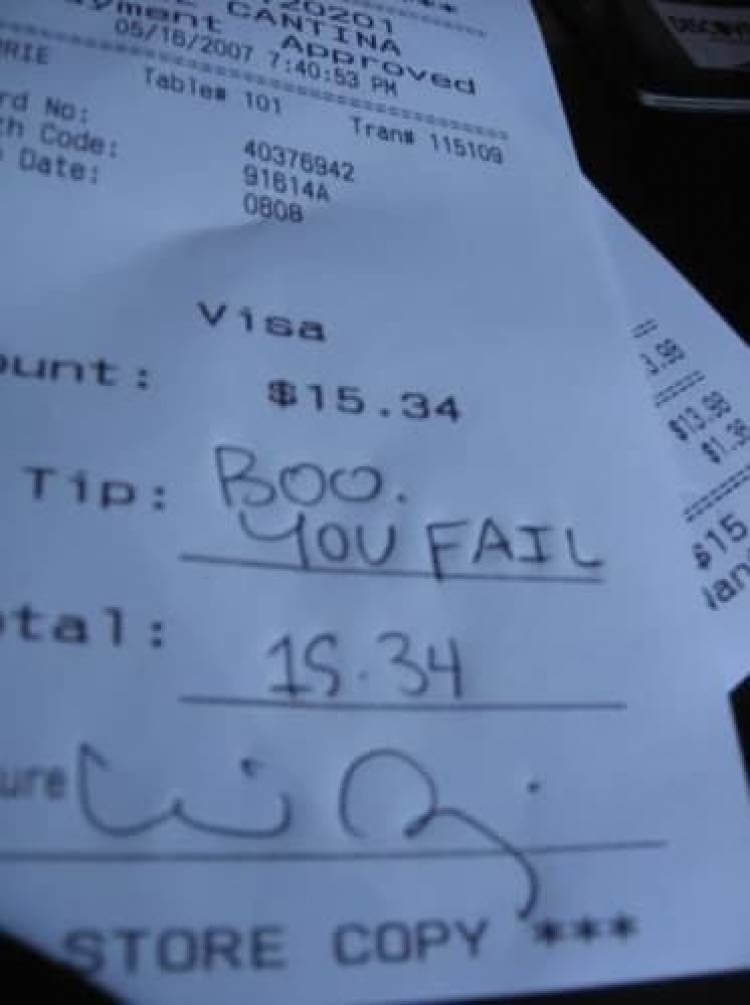 This note was definitely written by a member of the latter. We're not saying that a person who gave bad service should get the biggest tip ever, but the least a customer could do is not be rude if they're not leaving a tip at all.
​An Unnecessary Gender-Specific Footer
In recent years, we've seen more and more restaurants using the footer of a receipt to share a quirky message with their customers. This could either encourage a good tip or just put a smile on the patrons' faces.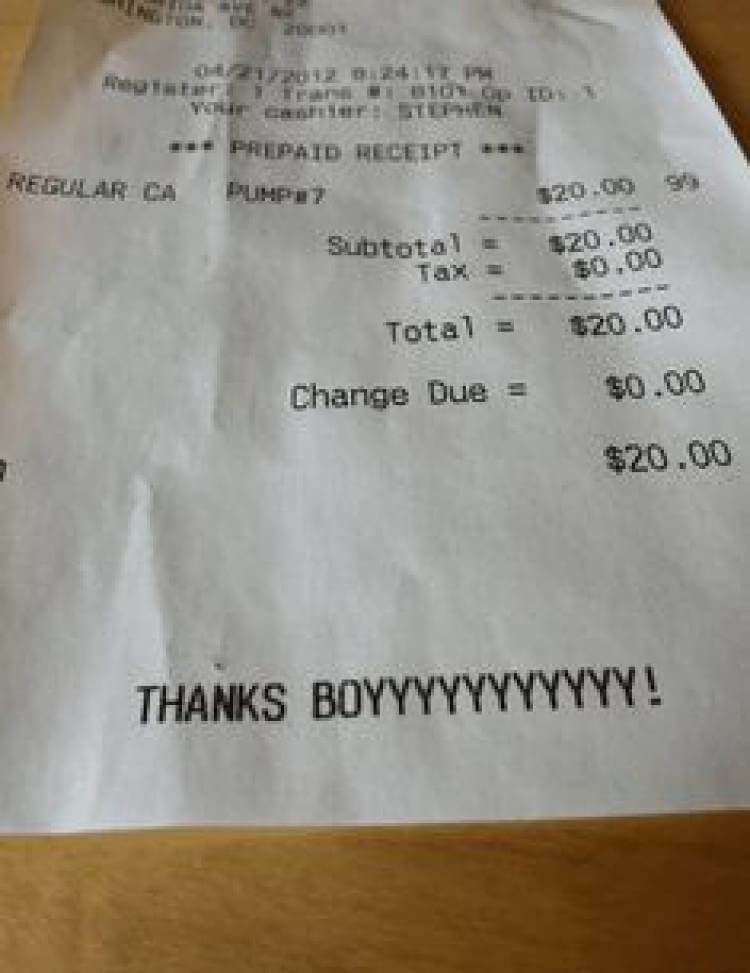 But this person seemed to be a little bit too enthusiastic and ended up writing a very gender-specific thank you, which makes us wonder, what happens when the customer is not a boy?
​"Does Anyone Really Read This?"
How many people out there actually pay attention to what is written on a restaurant's receipt? Do you ever read the entire thing or do you just skim through the bill and pay it?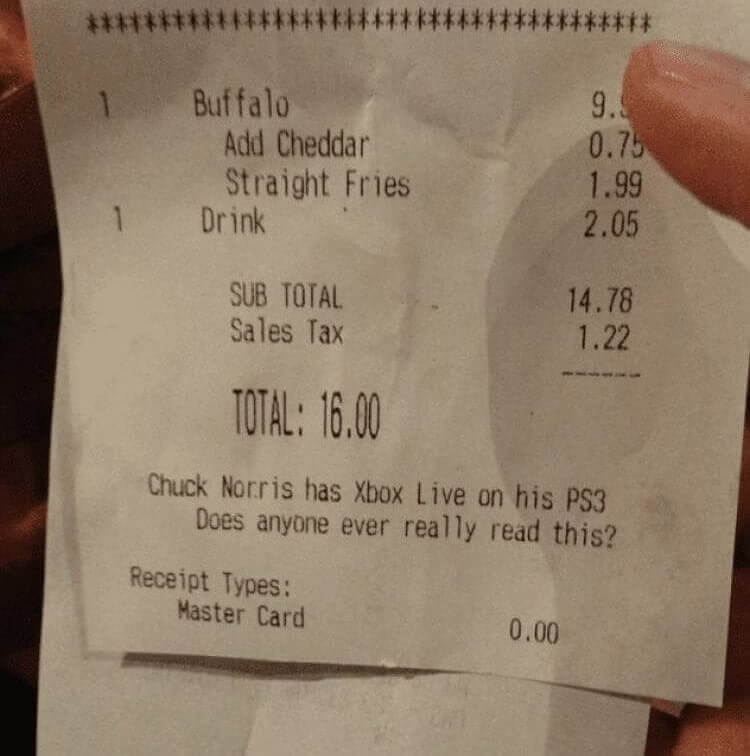 Apparently, this restaurant wanted to find out if anyone actually paid attention when they wrote a random Chuck Norris fact regarding him having an Xbox Live account on his Playstation. Honestly, they could have picked a better one.
Thanks For Sharing?
There are so many reasons why a person would leave a note on a receipt. It could be a hilarious joke, a terrible insult, or just another daily observation. But sometimes, it just doesn't work.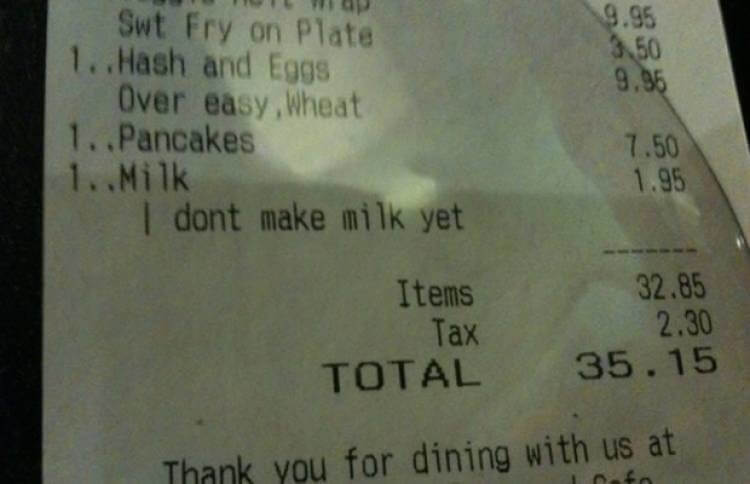 The person at this restaurant decided to use the receipt to inform customers that they don't yet produce milk. Thanks for sharing?
Some Not So Helpful Advice
Some people feel like when they get the check, it's their time to shine. This customer decided to use the additional tip section to give some very unhelpful advice, and it doesn't seem like they left a tip at all.
Honestly, some people should just stay at home and avoid going out in public if this is how they like to spend their evenings.
​The Most Sincere Thanks From Really Drunk People
It's not always fun to serve groups of really drunk people. While they may be hilarious, they can also be really difficult to understand. Take these people for example.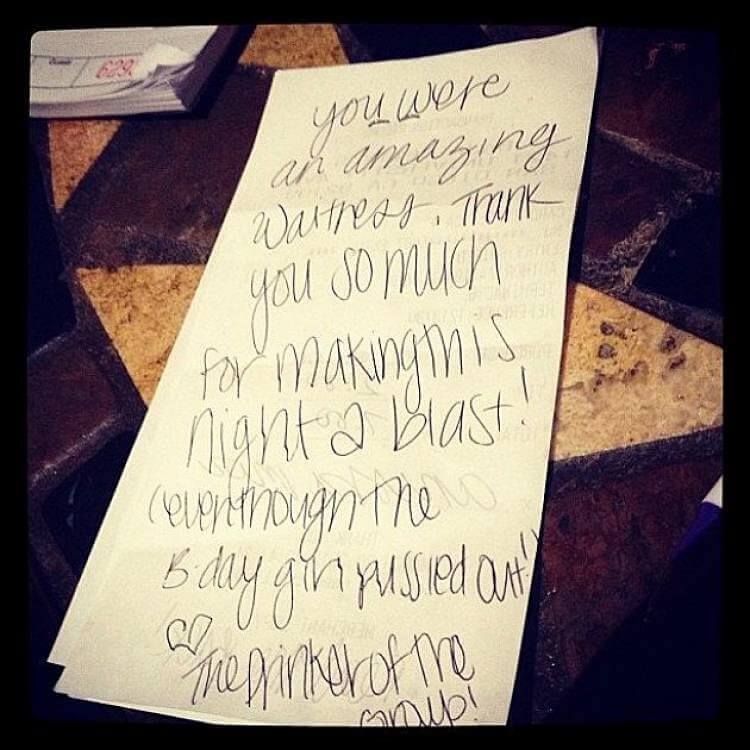 Apparently, they were so happy with the service they got that they left the longest note on their receipt. We do hope though that the heartfelt message of thanks was accompanied by a very generous tip. 
​When This Waiter Added A Random "Fire" To The Bill
What makes a wonderful restaurant experience? For some, it may be the company, or perhaps the delicious food, the drinks, or even a combination of everything.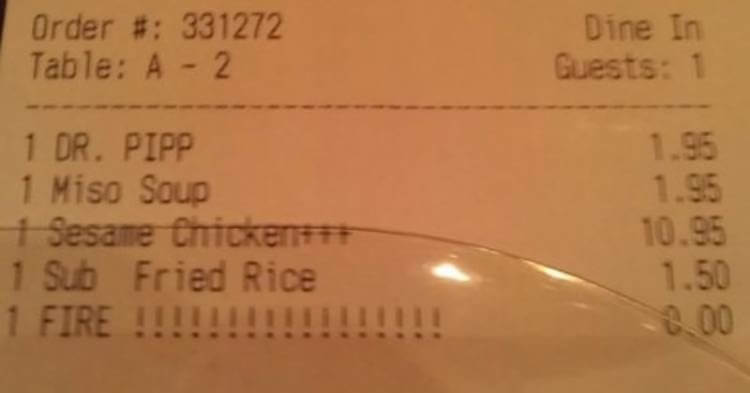 But let's be honest, we all love a free or complimentary item on the table, so when this group of people realized that they had gotten some "fire!!!!!!!!!" for free on their bill, they weren't sure what their reaction should be.
Math Is Not For Everyone
Not everyone is great at math, and with the easy access to calculators and phones nowadays, many of us fail to make the simplest calculations on a daily basis. We've all probably experienced that moment at the end of the night when we're trying to figure out what the appropriate tip is.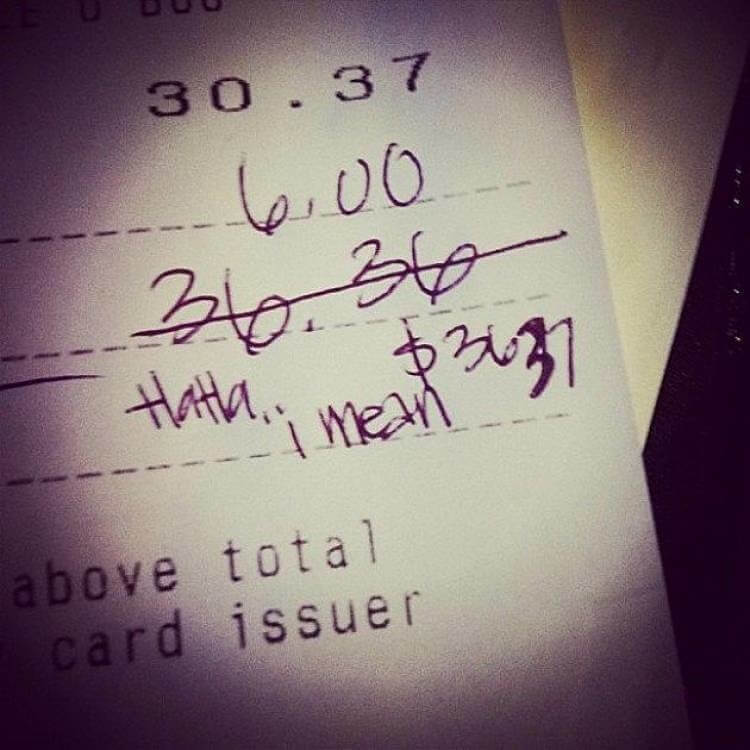 This person clearly got a little bit confused with probably the simplest math problem ever, and they totally admitted it on their note. 
​Garlic Breath Is Sexy
When you go out on a date, there are a few foods that you probably want to stay away from. Garlic is definitely one of them, as you probably want to keep that breath fresh in case things get heated (if you know what we mean).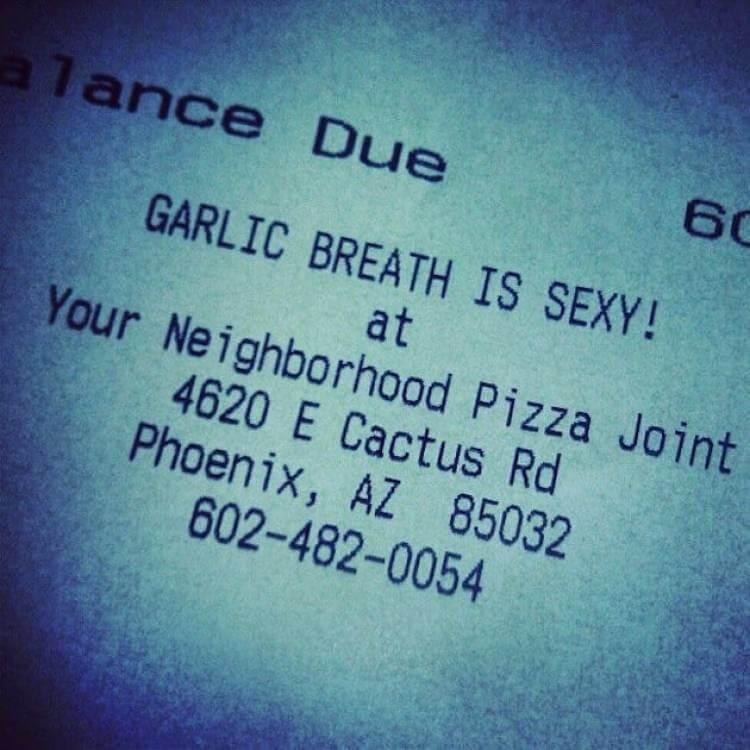 But this restaurant decided to encourage their customers to get that sexy garlic breath on, and they did so by smoothly sharing it on the receipt.
​Apparently, George Got Naked On A Restaurant
Sometimes we go wild on our birthdays, we feel happy, free, or even just really sad for getting old to the point that we have a few too many drinks, either way, George definitely stood out on his birthday.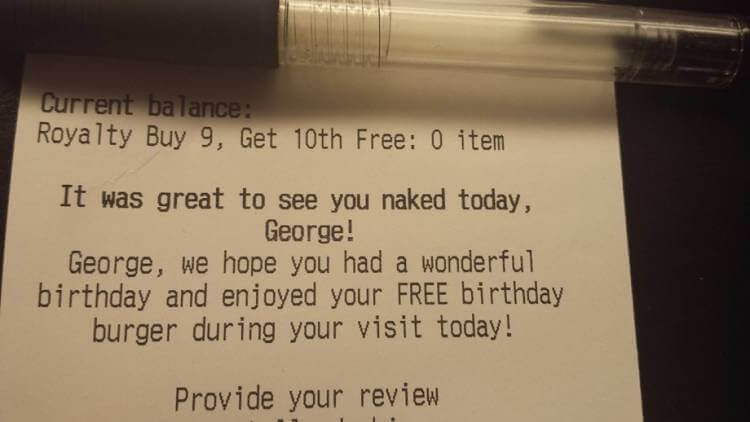 The restaurant loved him so much that he got a free burger, great service, and to thank them, he got butt naked for everyone to see and celebrate.
​When A Horrible Customer Says "Get A Real Job"
Only those who have worked at waiting tables or in the kitchen of a restaurant know how hard the work can sometimes be. It may be temporary, it may be permanent, the point is that working at a restaurant is a job, and a really hard one most times.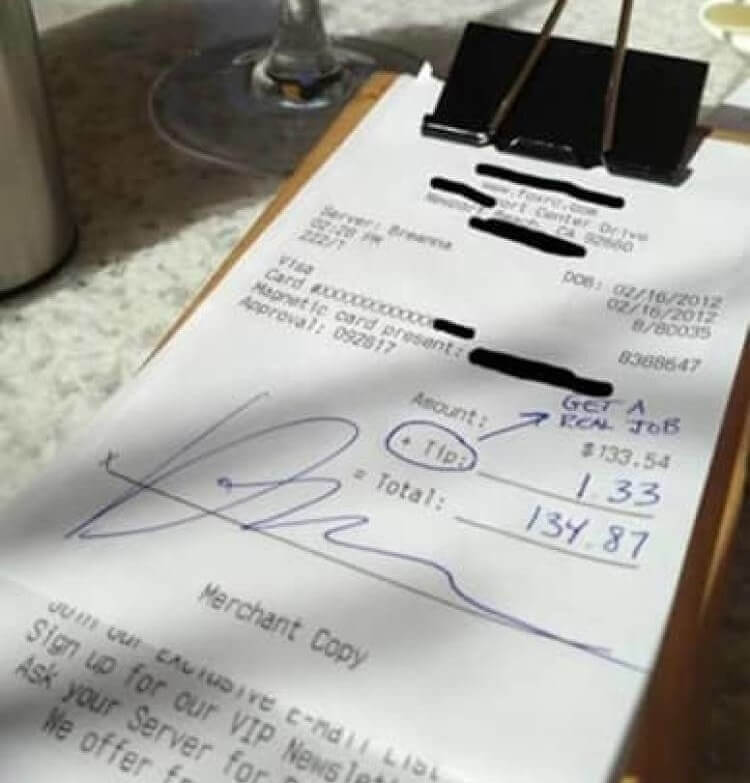 So what this customer did was completely uncalled for, and we hope they never return with their negative attitude.
Playing A Little Game For That Tip
While there are undoubtedly horrible customers like some of the ones on this list, there are also wonderful ones that give a tip as generous as this person. But apparently, before giving the waiter their tip, they played a little game that would determine how much tip they would leave.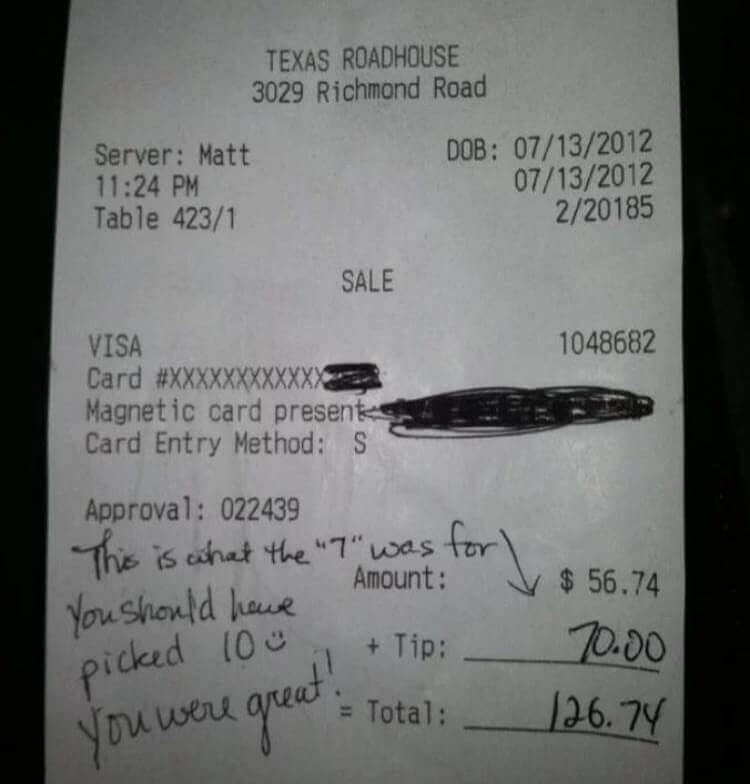 It seems like if the waiter had chosen a 10, they would have gotten $100, yikes!
​The Worst Poem We've Ever Seen
Sometimes, no matter how hard we work on a skill, it's just not for us. And being a poet is certainly not this person's best skill, since their writing barely said anything.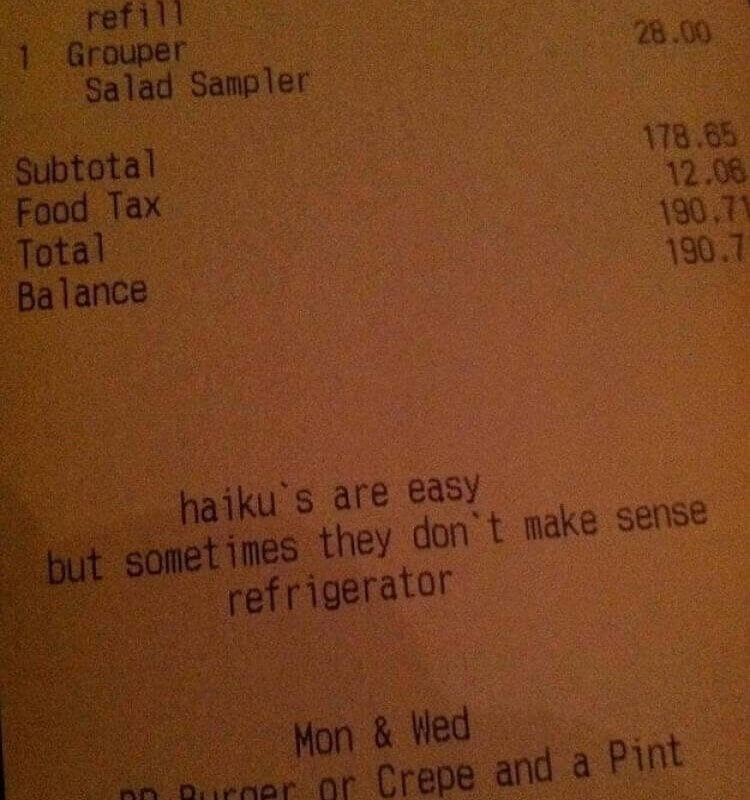 Maybe they should have chosen a word other than haiku, which is so specific and requires a particular syllable structure? Something tells us that whatever word had been chosen though, the end result would have still not been great.
​That's What She Said
Nothing like a classic old joke to make a customer happy! We can't really tell when the expression "that's what she said" dates back to, but it has certainly been here for a while.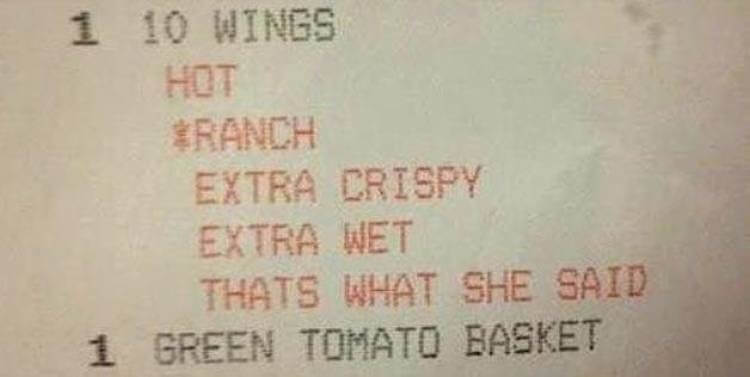 While it may be slightly funny sometimes, it is overused and pretty old. But, these whimsical restaurateurs thought that listing it on the restaurant's receipts would be brilliant.
​A Restaurant Calling People Fat
There are a few times when it's completely acceptable to not tip a server. There could be so many reasons for it, and feeling insulted by the restaurant is definitely one of the best reasons.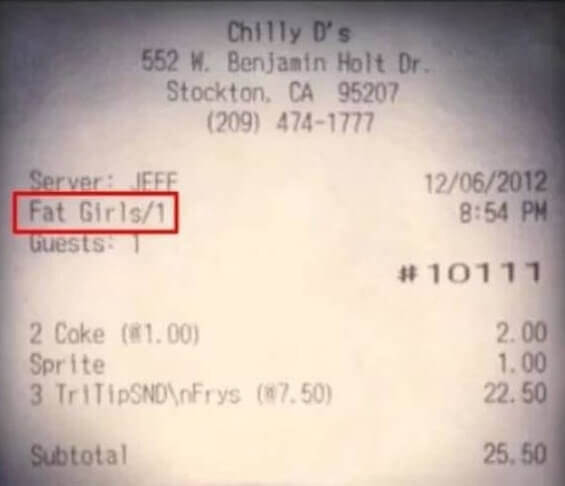 While being fat should not be an insult, but simply a statement, just like being thin is, many people use it in the most derogatory way. By the looks of this note, this person was just rude.
​Nah, I'm Good Thanks
Restaurant notes can come with pick-up lines, and every once in a while, they can also come with a random threesome invite like this person got.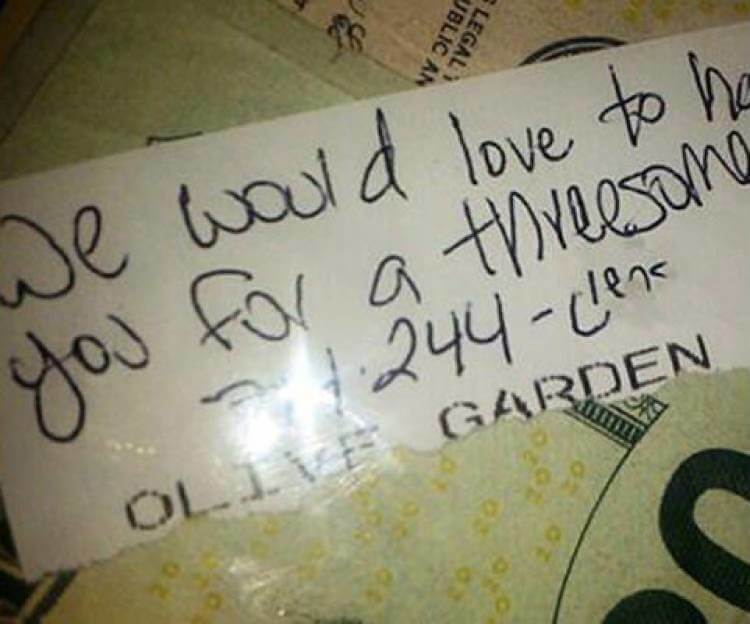 The unorthodox way of getting a third person to go to bed with this couple was certainly shocking, but we do wonder if the strategy worked? We guess we'll never know.
​I Can't Math, Sorry
Again, we weren't all born with the gift of doing math easily on the spot. This person is a part of that club, for sure, but the truth is that they could have just used their phone.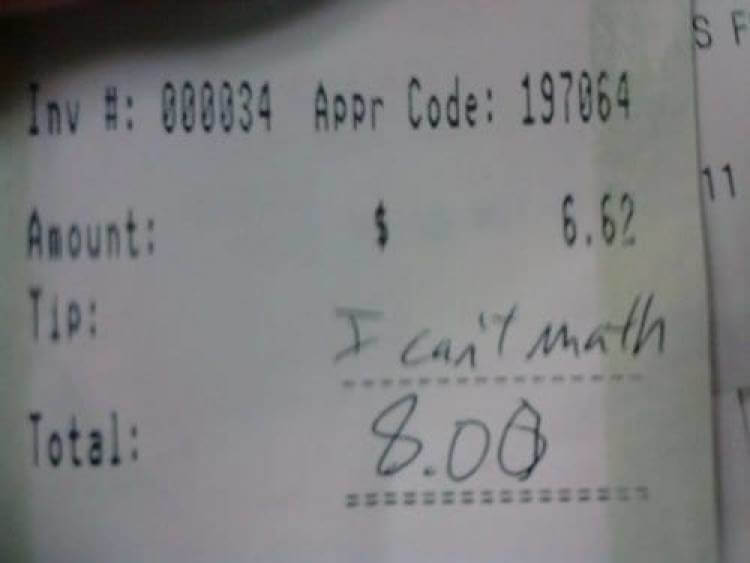 Instead, they did leave a tip, which is just about right when it comes to the amount they spent, which wasn't that much. So in the end, the person was kind, and the "I can't math" comment was probably just for the joke.
​A Creep Served This Table
When you check your bill and you realize that someone took some money off of it you probably smile about it. It is usually a good thing, especially if you haven't specifically asked for it. But whatever happened here wasn't ordinary.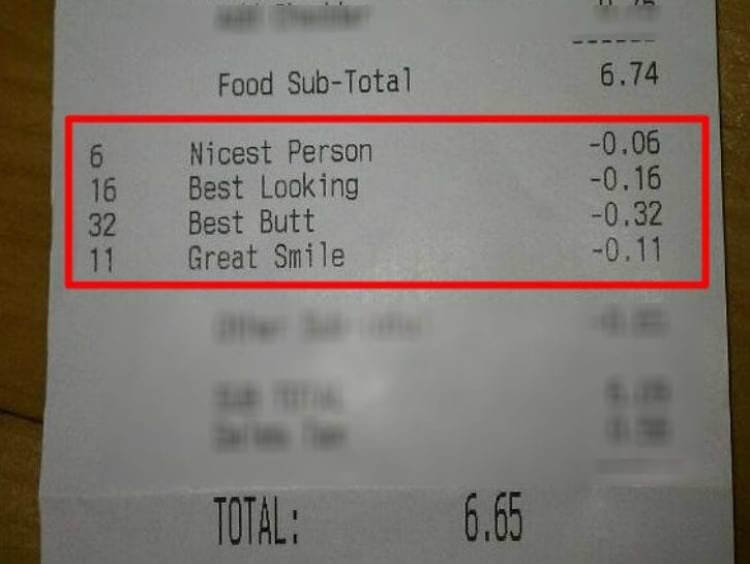 It seems like this table was served by a bit of a creep who decided to deduct price points based on how nice and good-looking the people at the table were.
​You Can't Scare Me, I Have Children
Children are great, really, but when they come, they completely change a person's life. This restaurant owner or waiter certainly experienced that, since they felt compelled to make a statement about it.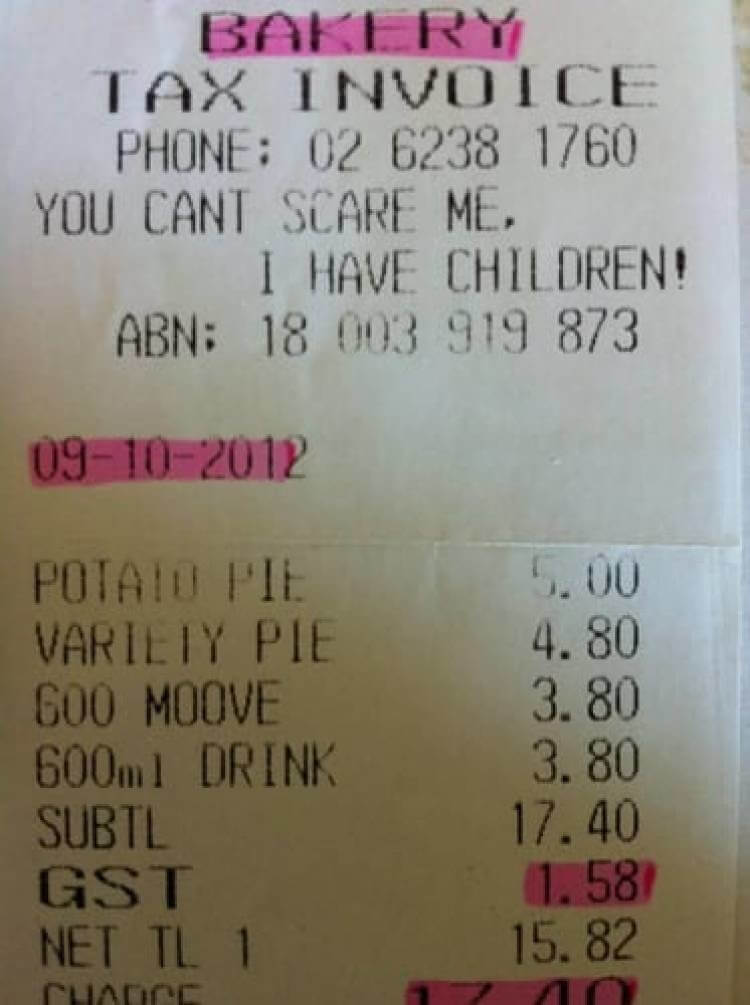 In fact, they made sure that the customers knew that almost nothing scared them anymore after those little cuties joined the club - and we can't deny that there is some truth to it.
​A Game Store That Uses Memes On Their Receipts
Meme language is not for everyone, especially when it comes to the older generations. Most people under the age of 35 will probably recognize this sentence pretty fast, but those older folks will be clueless.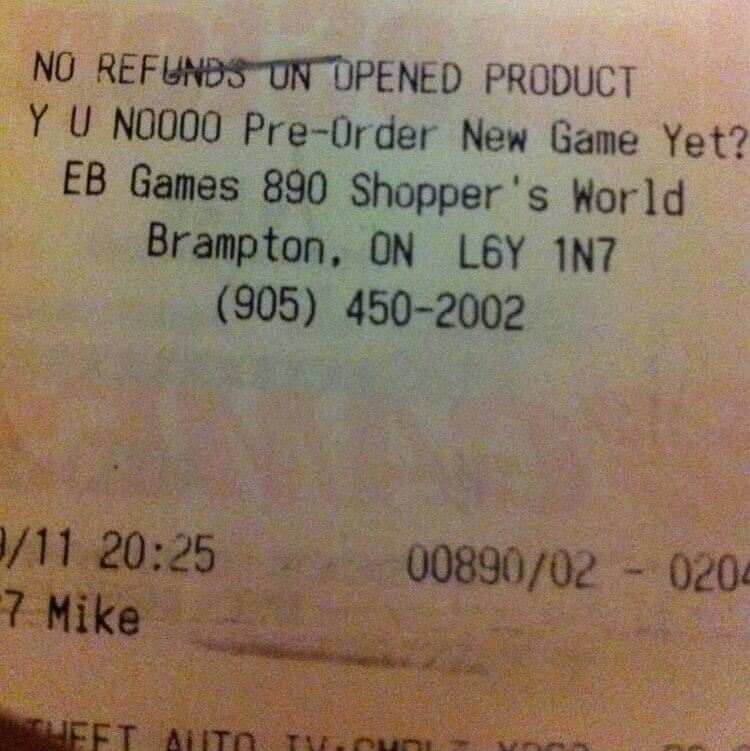 In fact, they might even wonder why this gaming store has decided to write something in such terrible grammar. The marketing scheme might work on some, but not on everyone for sure.
​Being Served By Clerk Lady Gaga
While we would love for this receipt to state something that is true, we believe that it's highly unlikely that Lady Gaga felt like working as a waitress in a restaurant for a night.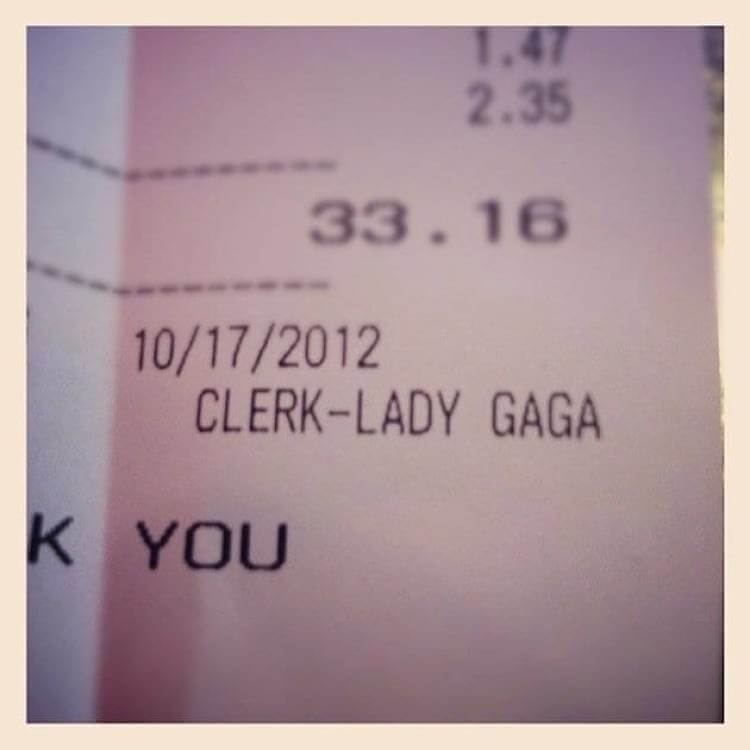 The multi-millionaire was probably chilling at home when this server decided to borrow her name for the evening, we only wonder if it worked on the customers when the time for giving a tip came through.
​A Restaurants That Tried To Get Their Customers On The Woke Side
This person is right, when most receipts simply end with "thank you for your business" or "have a nice day", this restaurant is a little bit more on the woke side of things.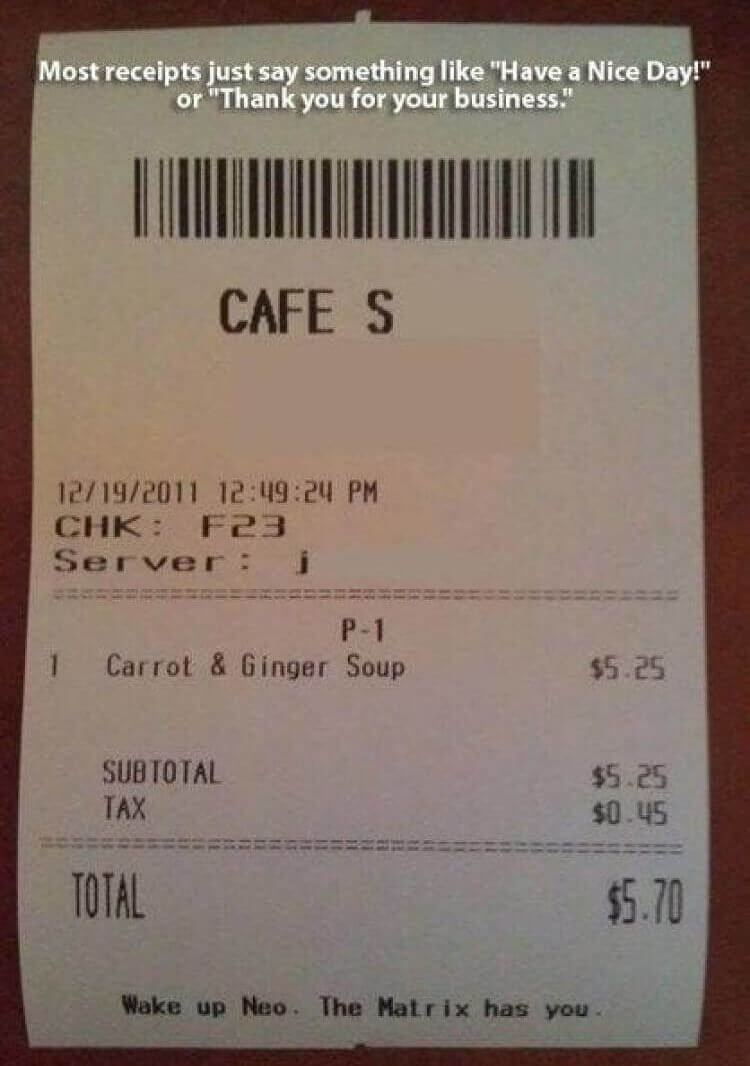 They seem to be a part of the group of people who believe that we are living in a reality that is actually a dream, completely controlled by those in power.
​When You Can't Handle The Spice Because You're A Foreigner
It is a fact that Indian cuisine is quite spicier than Western cuisine. Even if you go to a restaurant with the intent of having a spicy meal, chances are that the meal won't be as spicy as it would be in India, or an authentic Indian restaurant.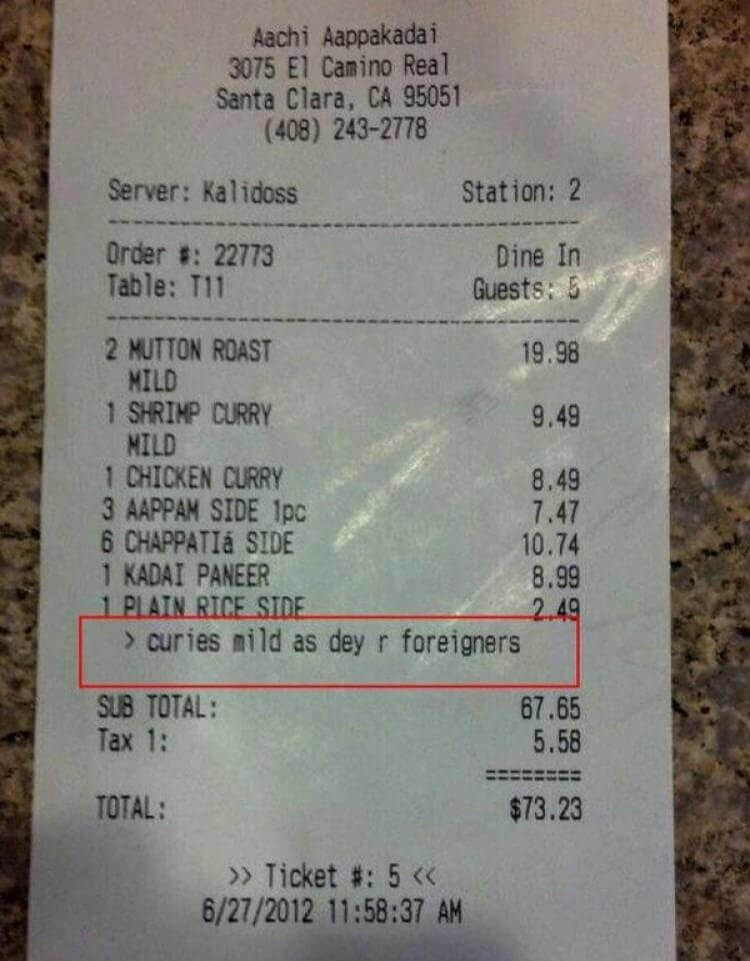 These customers were clearly not Indian, so the restaurant made sure to warn the cooks that they could not handle the spice.
​Randomly Wishing A Mom-To-Be Good Luck Through A Pay Slip
While this is a little bit weird, it is a really nice thing to do for a customer. Apparently, this restaurant's manager realized that one of the customers was pregnant, so they decided to give them a little promotion for the proud mom-to-be.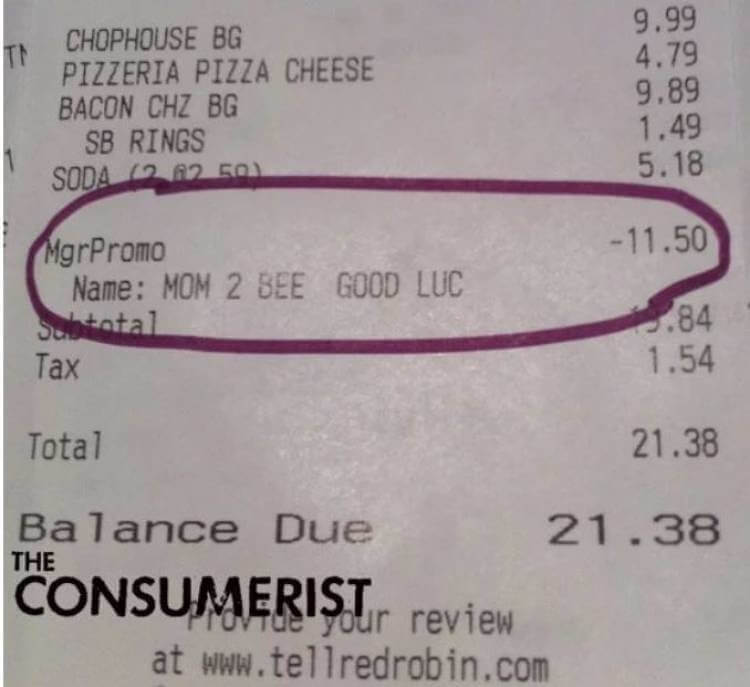 True, it wasn't a big discount, but no one probably expected it and we're sure this made this person's day.
​When Boobies Are Life
So, the word "booby" on this restaurant bill could mean so many things, but we're just going to guess that it means what we all think! In all truth though, it could be the server's nickname, it could have something to do with the restaurant's slogan and a few other things.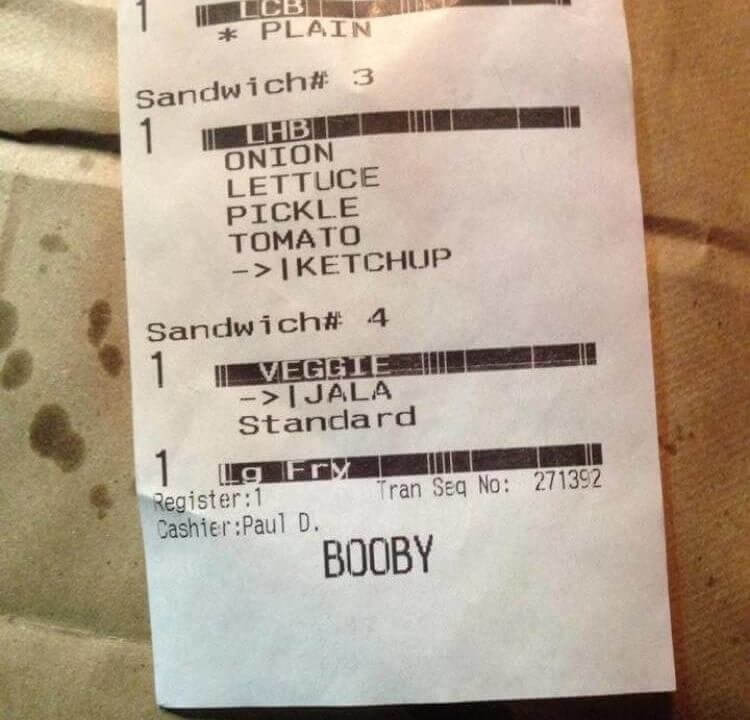 We do hope though that in no way, it is a reference to something related to the customer.
​Beware Of The Ninjas In The Parking Lot
Delivery notes are usually there to help take away drivers arrive at their destination with the right food and information. Most of the time, there will be a note about where to park, door codes, or what the best way to contact a customer is.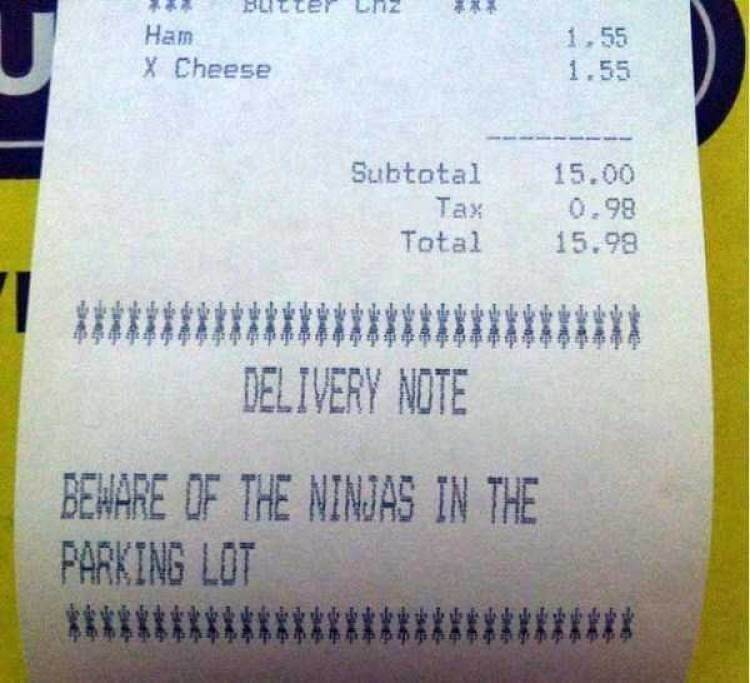 Apparently, though, this restaurant felt compelled to warn this takeaway driver of the supposed ninjas in the parking lot.
Nom Nom Nom
There are a few things that stand out on this receipt. The first one is that these people claimed to have given a cash tip, even though they paid with credit. But as long as the server really got the tip they deserved, then we're good.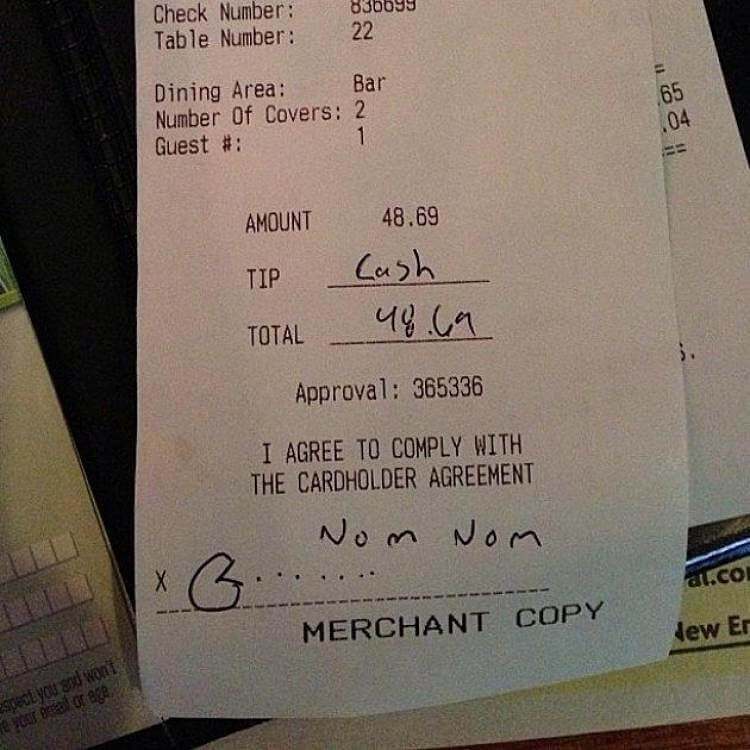 But also, there's a hilarious signature on the bottom of it, which we find really adorable. Go Pacman!
​Showing Off Your Skills On A Receipt
So, you probably need to have the most basic math knowledge to get what happened on this receipt. And like we said, not everyone has an inclination for solving math things in life, so bear with us.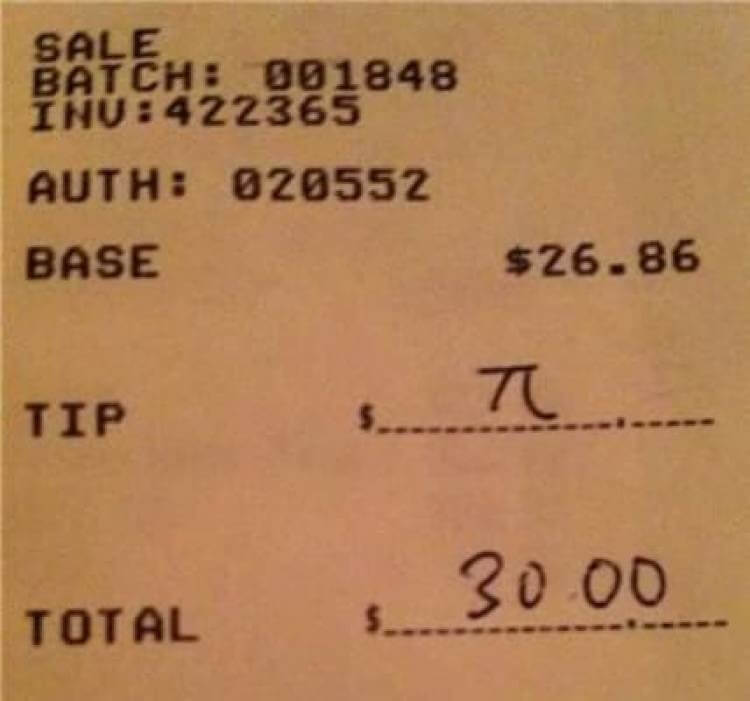 Instead of writing the actual number of how much they would give as a tip, this person decided to show off by typing the amount that is the value of Pi.
​We Suspect That This Person Did Not Get A Tip
Ouch! There is one very basic rule in life, and that is to never ever assume that a person is pregnant unless they say it to you out loud.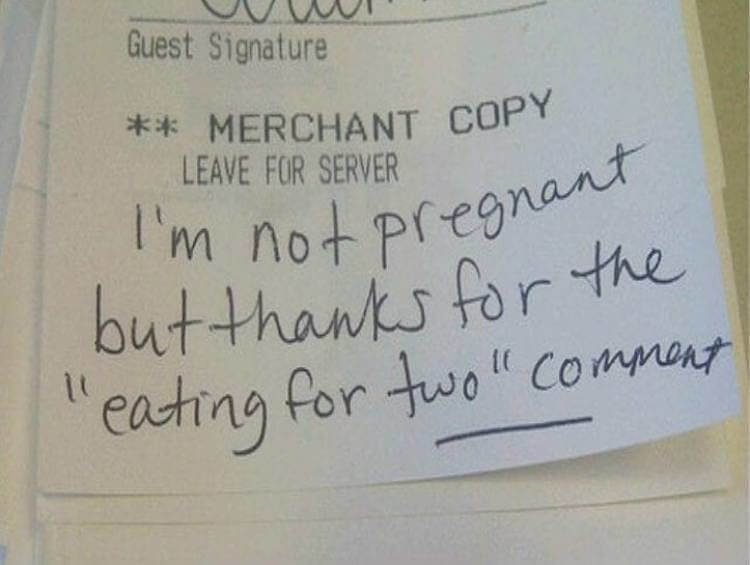 This server seems to have made that terrible mistake when they told this customer that she was "eating for two" when she wasn't in fact pregnant. We're guessing that they didn't get a tip after this one.
​Stating That The Cashier Was White For No Apparent Reason
This is a really hard one to understand - especially because we just don't get how relevant it is that the cashier of this place was white.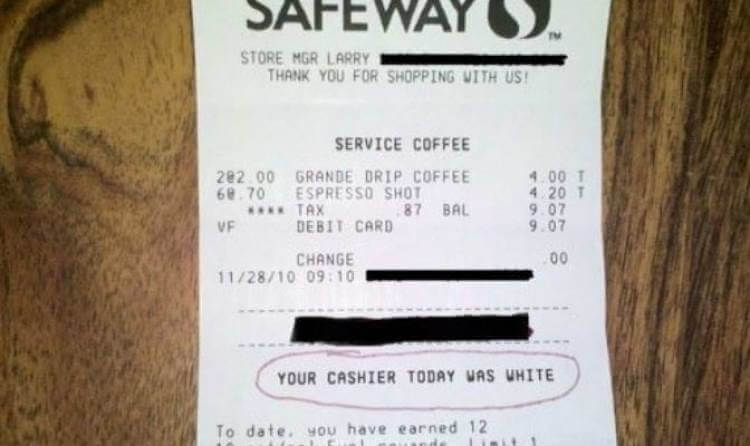 In general, the color or ethnicity of the person serving you should not matter, though we do know that racial politics and power imbalances are complicated, so we won't get into that here. Either way, this was unnecessary.
​Sharing Some Nonsense On The Bill
It seems like this customer was having a great time when their check arrived. In addition to paying it, they suggested the server should "shake it like a salt shaker," though it is quite unclear what they actually mean.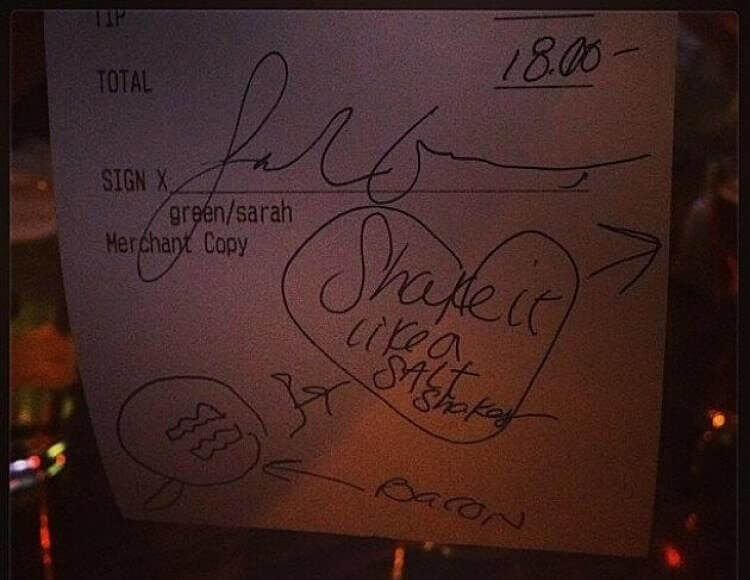 It is possible that they realized that their advice could be misinterpreted, but it was too late for that anyway.
When You Charge Your Customers For Farting
Nobody enjoys a bad smell in the middle of their meal. It seems like this table was particularly fragrant, so the restaurant decided to call out their farting situation.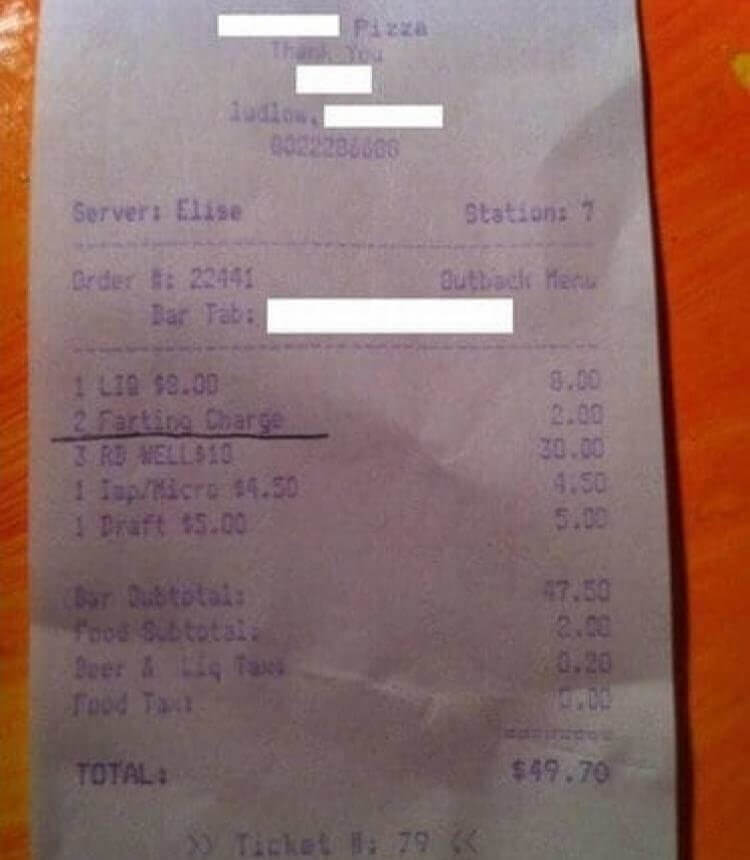 In fact, they seem to have done more than just calling them out, they actually charged for their extra farting which is absolutely hilarious for the most part!
Soda Wars
Everyone has a preferred brand of soda, especially those who drink it on a regular basis. For the majority of people though, it may simply come down to either Coca-Cola or to Pepsi, although both options are rarely available in the same place.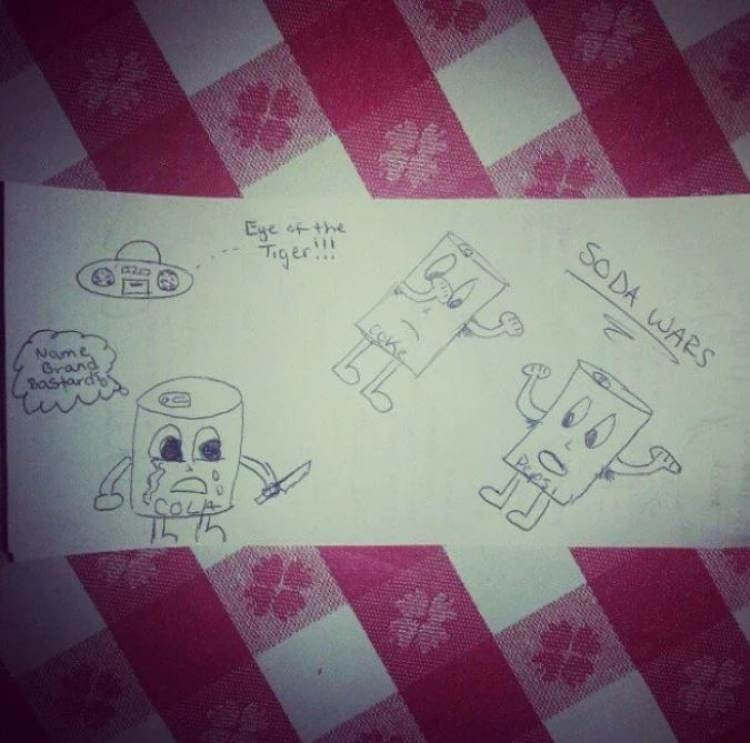 So this person decided to draw a cartoon version of soda wars on the bill - for what reasons they did it? Not sure.
​An Artist In The Wrong Field
We can't really understand whether this was made by the waiter, named Chris, or by a customer with the same name. Either way, the person who did it was definitely talented, and they decided to share their talents with whoever was reading that slip.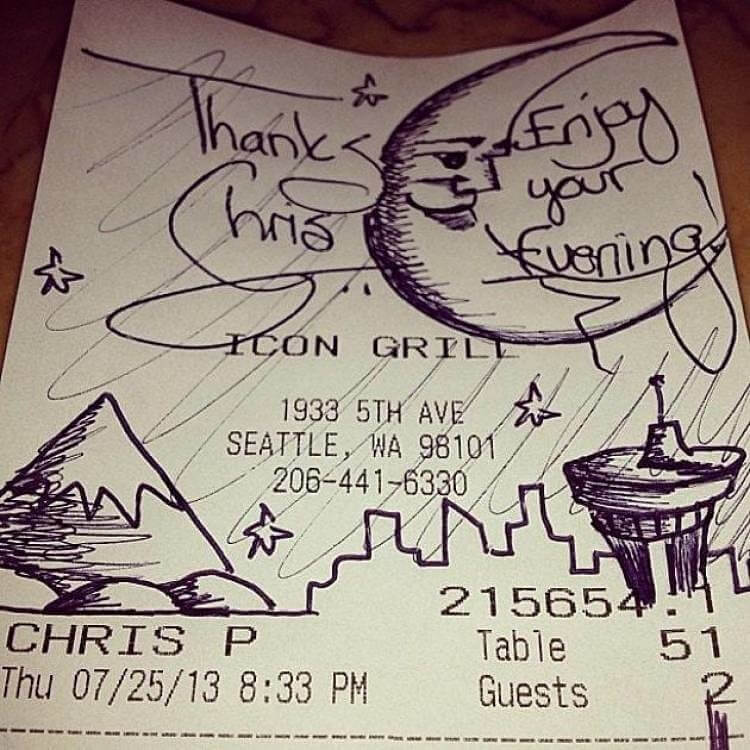 The creative artist is probably in the wrong field and decided to use whatever spare their time they have to practice their skills.
​Showing Off That Tan At The Restaurant
Many customers out there don't just decide on what tip to give based on the server's performance, they also look at their friendliness and how much they interact with the customer.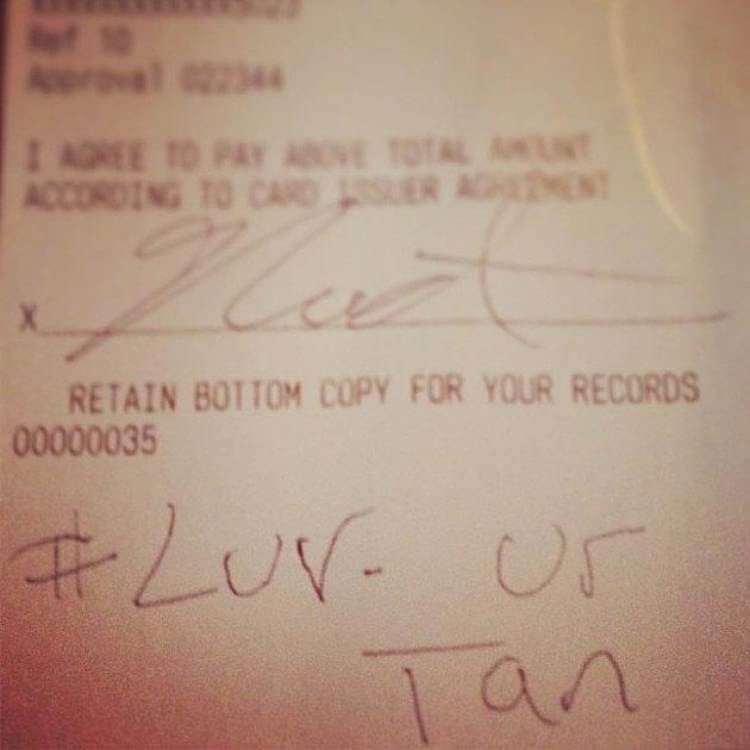 This server seems to have gone on a vacation recently, or to the tanning center since the customer went all the way to write down how much they love their tan!
​Thanks, Dick!
Some names just sound like insults and there is nothing we can do about it. Traditionally, the name Dick comes from the name Richard, and is usually used as a short or loving way of calling someone.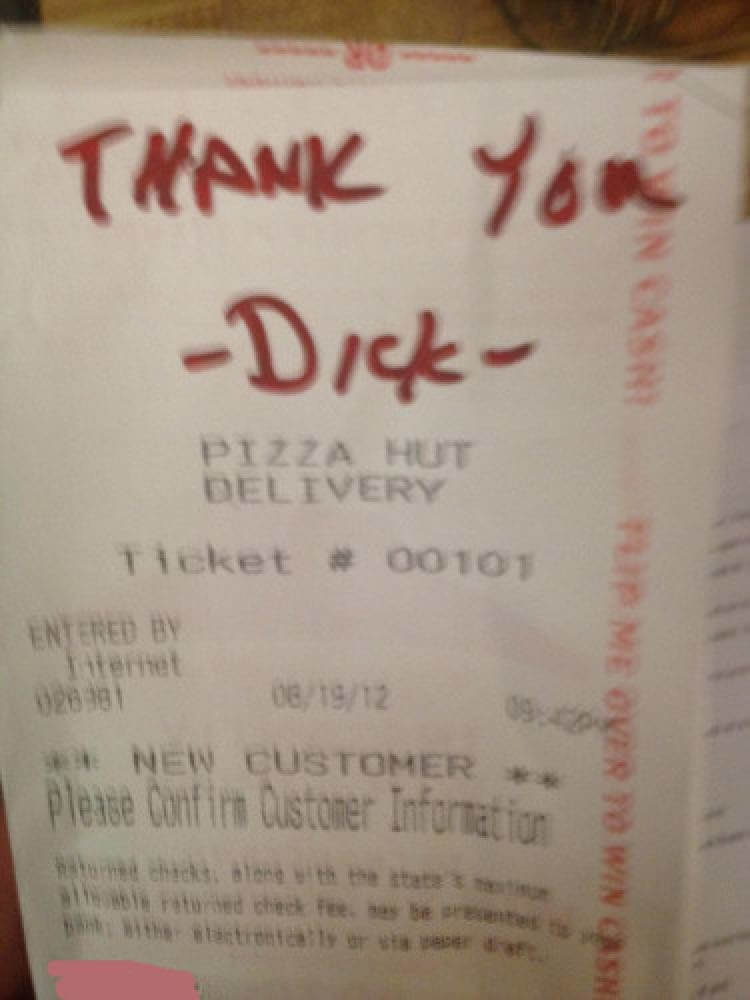 But as well know, it could also mean something completely different. For the sake of keeping things PG, we're just going to assume this was a reference to someone's name.
​Satan Came For A Visit
Some people may not find this so funny, but let's just go with the flow. Just like some people decide to sign with a famous person's name, this customer thought it would be a great idea to refer to Satan on their restaurant receipt.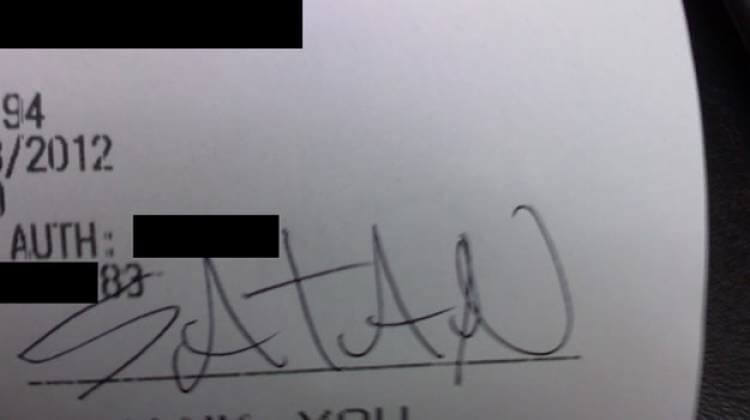 Even as a joke though, this does come across as a little bit creepy for anyone reading it.
​Thank You For Buying Weird Sh**
It is so nice to be thanked for something, especially when you don't expect it at all. Take this person for example. Apparently, they bought the weirdest book at the bookstore, and the cashier really wanted to show their appreciation for it.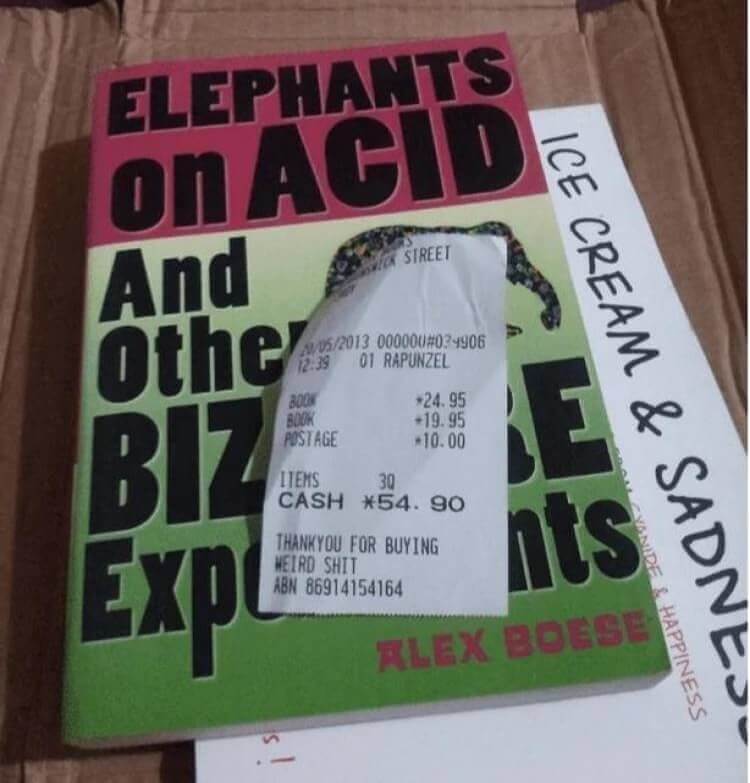 So they wrote a wonderful compliment at the end of the receipt, and we hope this will be enough to make this customer a returning one.
​Giving Your Two Cents In The Rudest Way
When you offer your two cents, it usually means that you share your opinion with someone, particularly when no one asked for it. It seems like that is exactly what this rude customer did with this person.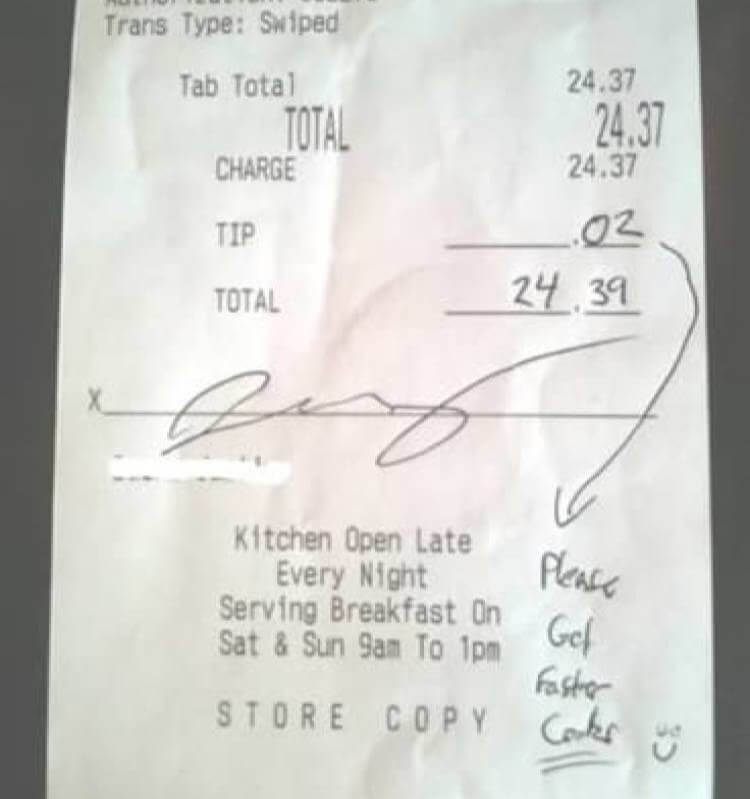 We're not saying that giving feedback is a bad thing, but this is certainly not the nicest way to give feedback to a server that doesn't even seem to be at fault.
​Kim Jong-Un (Happy)
The same way we don't believe that Lady Gaga was serving tables at a restaurant, we're pretty sure that Kim Jong-Un, North Korea's leader, wasn't just chilling at this Korean restaurant.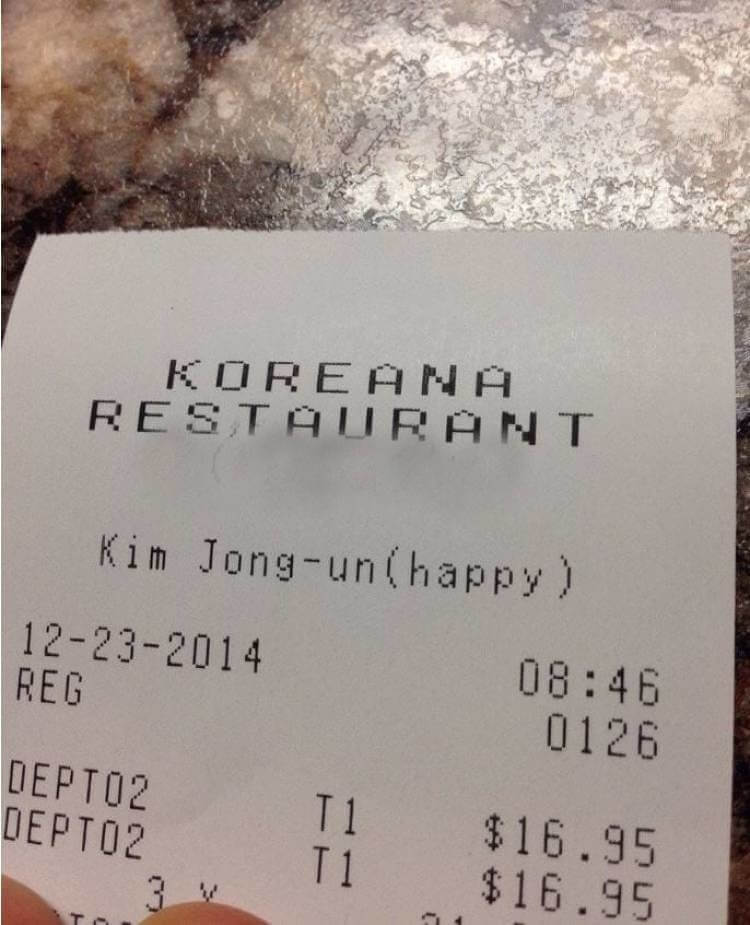 The server decided to make a sort of funny joke by playing around with Jong-Un's name, by referring to being unhappy. Not sure using the guy's name would result in a better tip though, since not that many people like him.
When Parents Finally Go Outside
Here goes another example of a person who used something that was false or even inappropriate to sign a receipt. People seem to have so much fun adopting random pseudonyms, and while some of them come out pretty funny, others just leave us completely confused.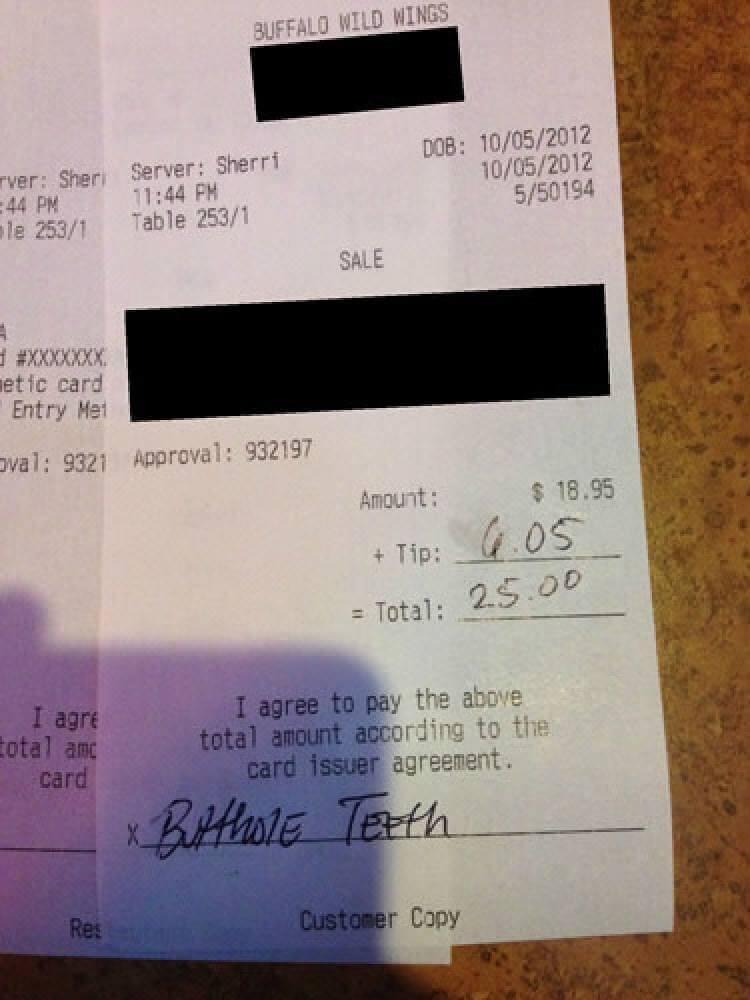 Let's just call the person who signed this Mr. Teeth and call it a day.
A Restaurant With Quite The Bargain
We're just going to go ahead and ask for a friend, does anyone here know where this place is? Because it really feels like this receipt came with quite the bargain since most people would give much more for such a wonderful service.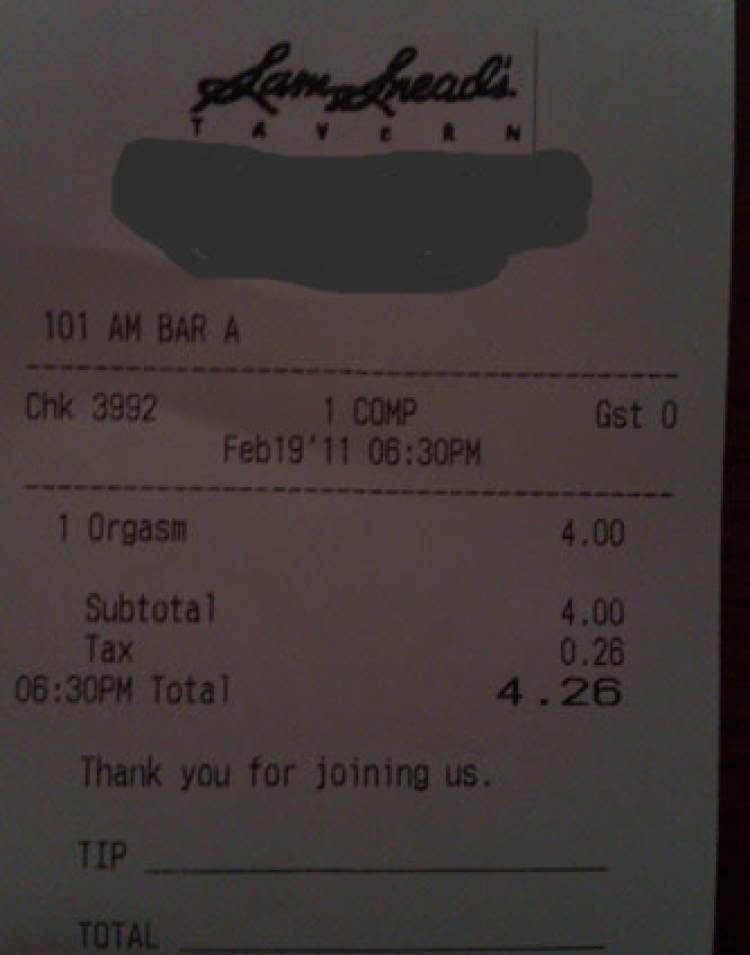 We suspect that the name written there refers to a cocktail, but hey, no one can stop us from making our own assumptions.
When You Can't Pretend You're Sober
Some people are really good at looking sober when they're either high or drunk, but many people fail miserably at it. Apparently, this customer really did fail at it because the restaurant went as far as to write about how high they were that night.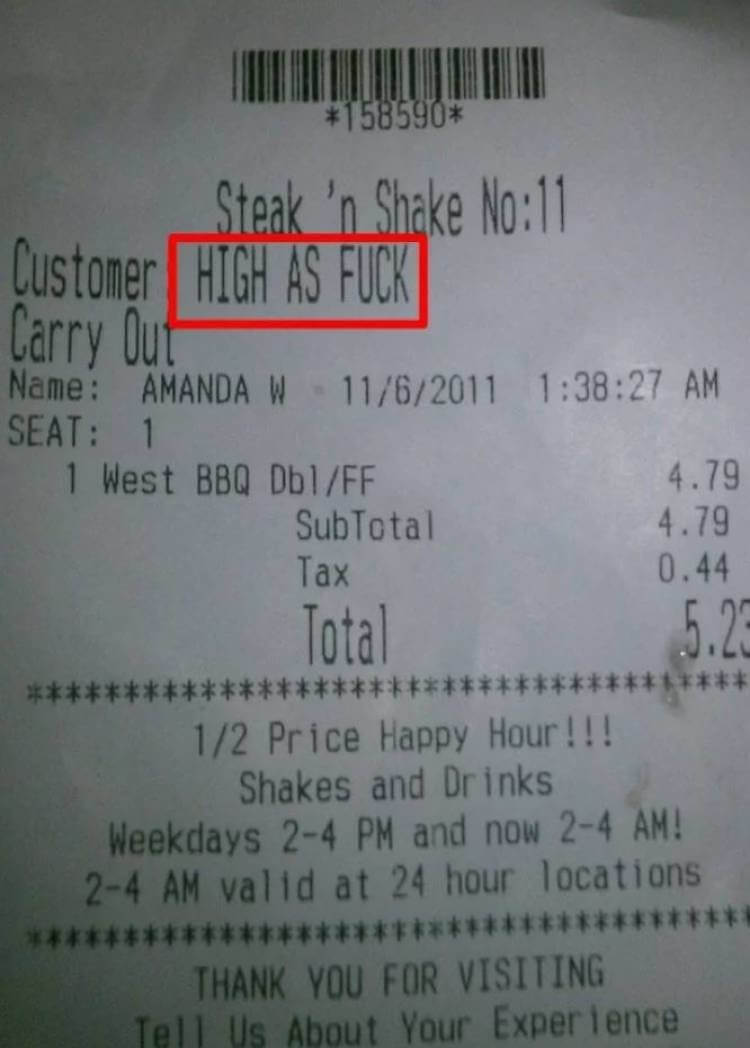 We can see that the receipt was printed sometime after 1 AM, and it was made for a customer who only orders one steak, interesting!
When A Typo Could Cost Your Job
It may take you a few minutes to identify the typo here but when you do, it is the funniest thing ever. Just imagine getting your bill and realizing that someone wrote something else instead of "whole juice."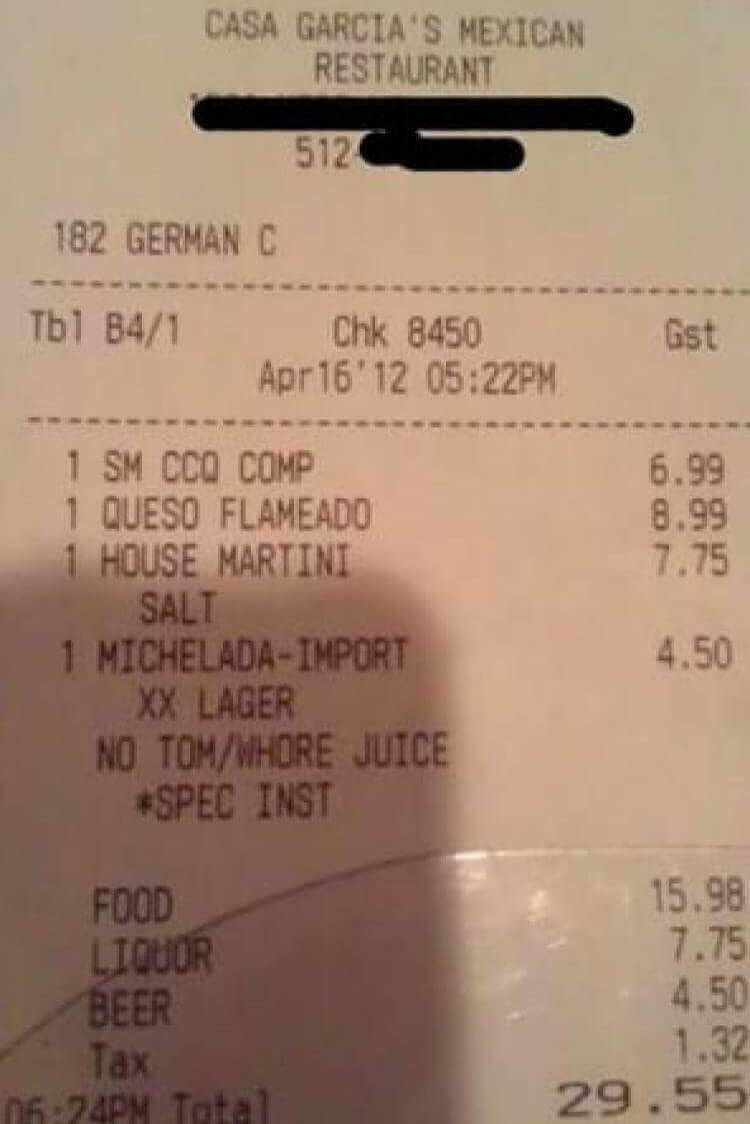 The typo could have gone both ways, either the customers think it was hilarious, or they're pretty upset with having to read that on their night out.
​Adding A Yo Mama Joke As A Compliment
Yo Mama jokes are also some of the oldest jokes out there, and while some of them are hilarious, others are just meh.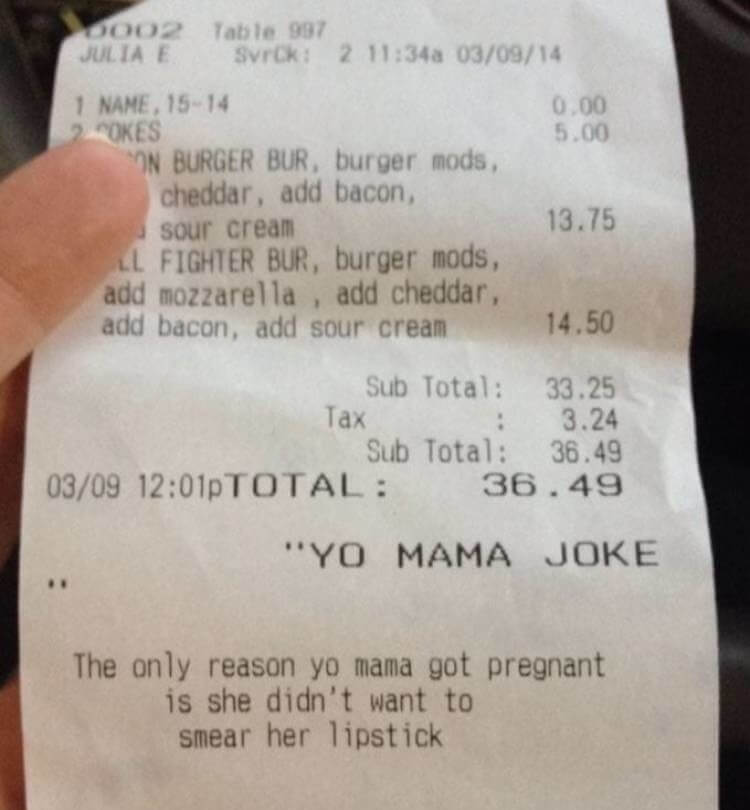 This server felt like they should try their luck by adding a little spice to the end of their receipt, and we're not sure what they were trying to accomplish with it. Was it funny? We wouldn't say so.